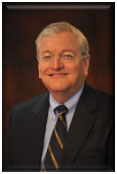 Appointed by:
Municipalities within Salt Lake County and the municipalities of Grantsville and Tooele in Tooele County.
Term Ending:
October, 2020
Professional:
Professional experience includes serving as a City Administrator for Riverton City, as rail projects coordinator for West Valley City (2001-2006), and a career in executive management of insurance companies.
Civic:
Member of the Salt Lake County Planning Commission (1992-2001); member of the Utah Transit Authority Board (1997-2001).
Education:
Bachelor of Science, Finance, University of Utah