For more information, including schedules and maps click here
As work continues on the 700 South light rail tracks, TRAX trains will be rerouted to different locations this weekend. This is being done to minimize the need for riders to transfer trains around the downtown construction area. Some transfers still will be necessary, and delays of up to 15 minutes should be expected.
The Blue, Green and Red lines will not be on their standard routes between June 9 and 11, and there will be the addition of a temporary Black line.
The Blue Line will run between Draper and the Airport (and through downtown Salt Lake City)
The Red Line will run between Daybreak and Ballpark stations
The Green Line will run between West Valley Central and Ballpark stations
A temporary Black Line will run between the University of Utah and Salt Lake Central Station
During peak morning and afternoon rush hours Friday (June 9) a bus bridge may be available between Ballpark Station and Gallivan Plaza Station (which will be the transfer point to the University of Utah)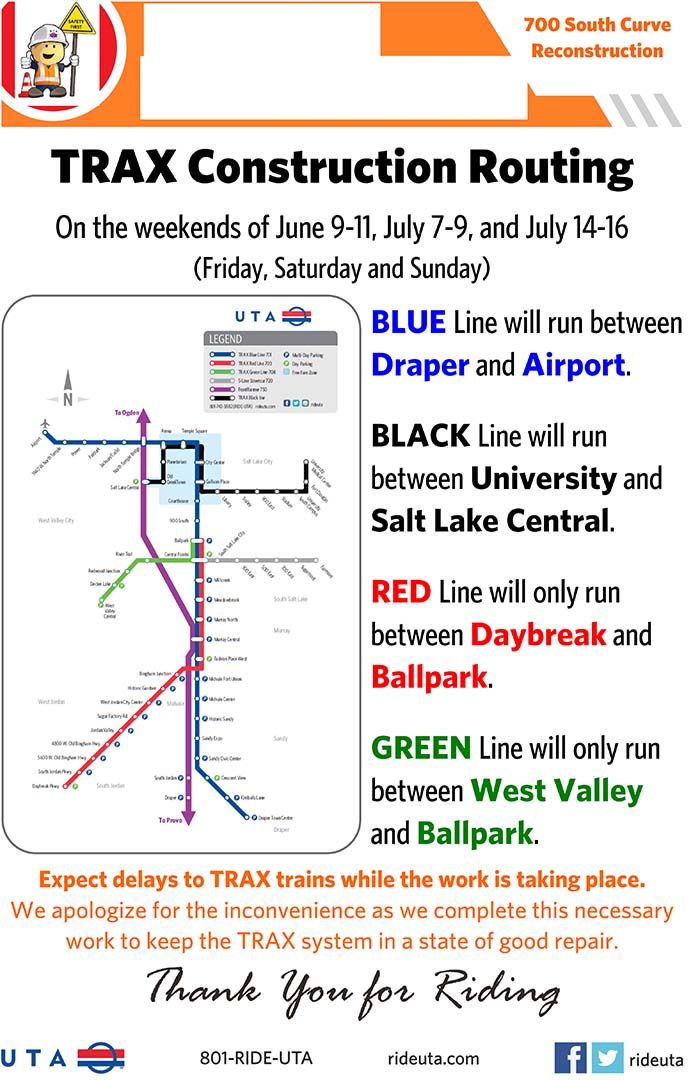 UTA representatives will be at the Gallivan Plaza, Courthouse, Ballpark and 900 South stations to provide in-person assistance to riders this weekend.

For the latest updates on this TRAX repair project, check back here and follow us on Twitter and Facebook.