In the past 18 days, our construction crews have been excavating concrete, saw-cutting old rail, installing new rail, welding track and pouring new concrete. We are excited to announce that we are ahead of schedule!
We will be starting Phase II of the construction process two days earlier than originally planned on Tuesday, May 21. This phase will include final construction of the 400 South and Main Street intersection, as well as replacement of four switches between 100 and 200 South on Main Street.
Over the past 18 years, there has been 1.85 million TRAX trains that have traveled between Main Street and 400 South! Given the years and use, UTA decided to replace a Half Grand Union (its official name), where three track lines intersect at the Main Street intersection of 400 South, and we're doing it in 30 days.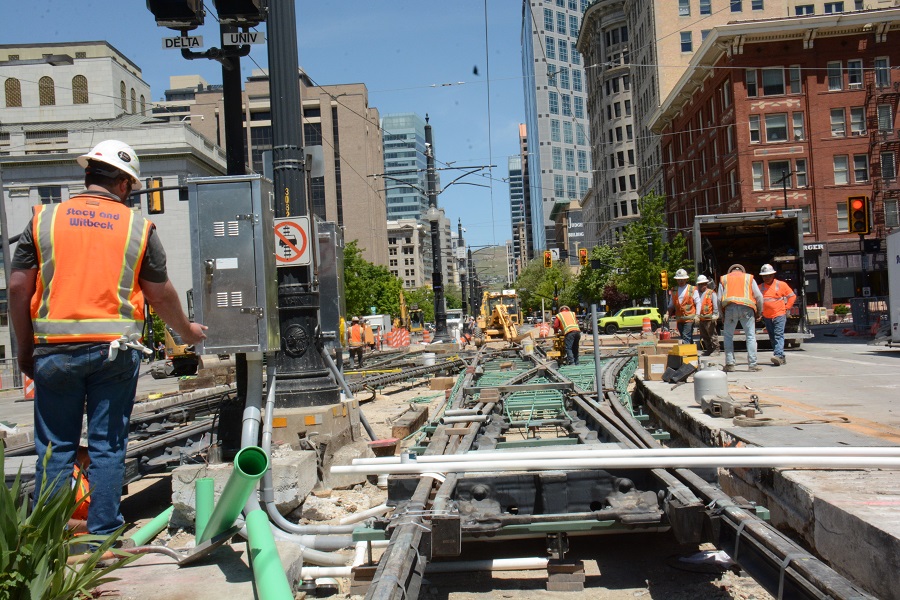 How will this affect UTA riders? Phase II means that Blue & Green Line riders will have to use the bus shuttle just a tad longer or enjoy a slightly longer stroll between City Center and Courthouse. Red Line riders will continue to walk between Courthouse and the Temporary Station. If you're unsure, you can always ask one our orange-vested UTA staff on how best to navigate the construction.
We are on track to complete construction by our scheduled end date of June 2. We look forward to these new rails getting even more trains passing through them.


Stay Up to Date on the Construction
For detailed navigation instructions and more background on the project see: www.rideuta.com/construction.
For daily updates follow us on Twitter at @rideuta, use #UTAConstruction hashtag to get only those tweets.
We will also be posting the fun stuff to Facebook, including time lapse videos and construction pictures.