This summer, UTA is out in full force. We're running weekly giveaways online and our tabling at events and festivals across Salt Lake, Utah, Davis and Weber counties.

Use your RL, Post and Win!
Kicking things off is our reduced-price Rider's License. This summer youth pass is now only $49 and works on all UTA systems through August 31. To help spread the word about the Rider's License and encourage youth ridership, UTA is giving prizes away every week through Instagram contests.
Post on Instagram about you using your Rider's License to get to various destinations throughout the summer. (Here's a couple of ideas.) Each week we will pick one winning post. We'll be giving away $50 in gift cards and tickets to Rider's License summer destinations like Boondocks, Real Games, Twilight concerts and more! At the end of summer, the person with the most posts will win a $300 UTA gift card.

How to Play:
1. Post a picture of you using your Rider's License on transit or at a destination you used your Rider's License to get to.
2. Tag @RideUTA and use our campaign hashtag #AdventureTodayOnUTA.

That's it! We'll announce a winner every Friday through August 30.

Tickets, Tickets, Tickets
As we've done in past years as part of our partnership with Ogden Twilight we will be giving away tickets to their shows through September. Similar to our Rider's License contest, we ask you to post to be eligible to win tickets. Check the instructions below and follow us @RideUTA to participate.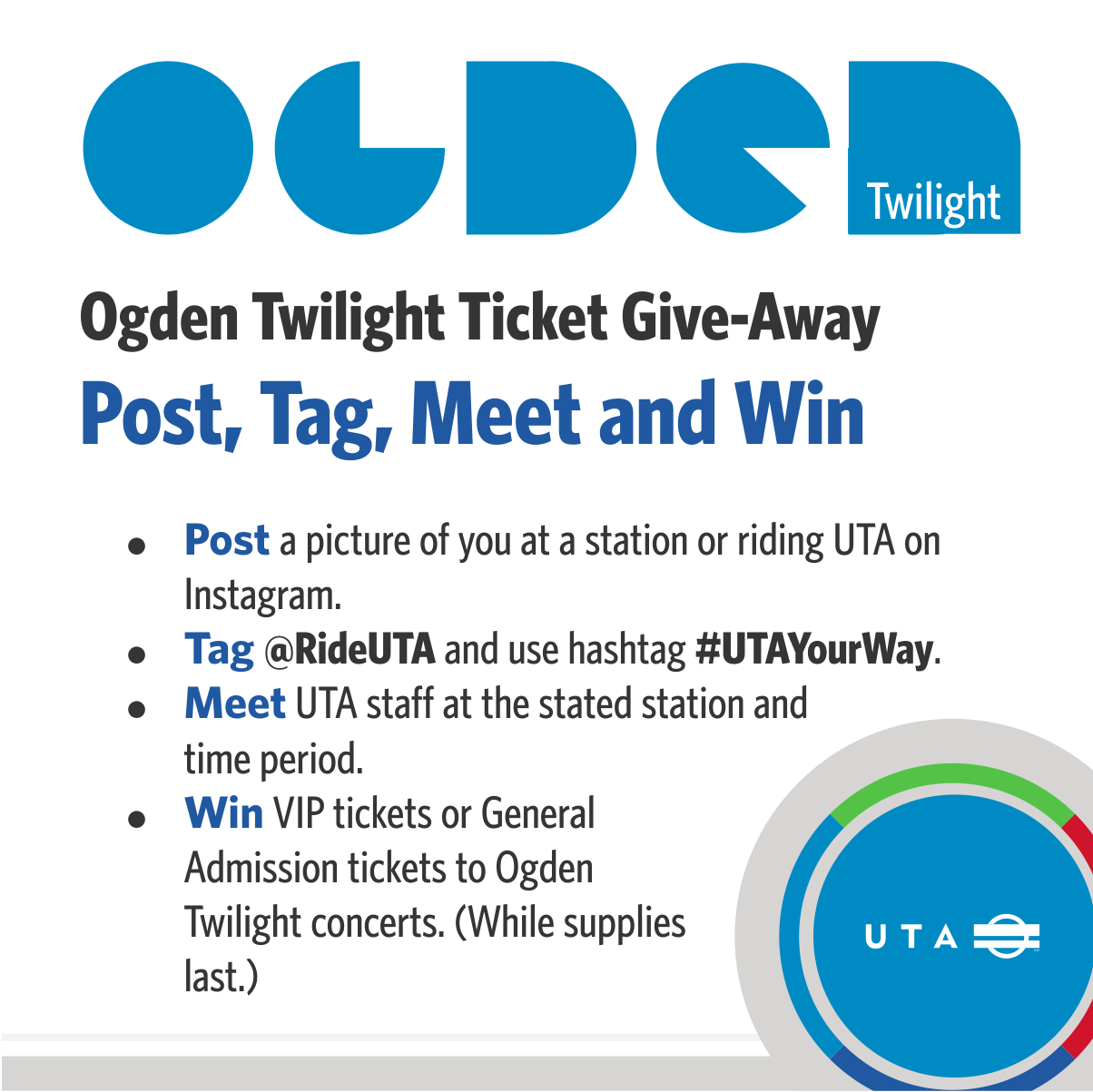 Find Us Out and About
Check out our community calendar to find staff tabling at an event in your area. We will be giving away some cool UTA stuff (including a few Rider's Licenses), soliciting community feedback, and answering any questions you have about using FrontRunner, TRAX and UTA buses. Stop by and chat with UTA staff.
Try On Some New Transit
We made some nice additions to the UTA system this past year. We encourage you to try two in particular. At Lagoon, we have a free trolley bus that runs from FrontRunner Farmington Station to the Lagoon entrance, route 667. Going south, give our newest bus rapid transit (BRT) a go on the Utah Valley Express, as it is supported by a Federal Transit Authority grant you can ride UVX for free through 2021. Now you've tried some throwback transit (trolley bus), some modern transit (UVX), give some future transit a go. UTA and UDOT's Autonomous shuttle will be touring the state, its public premiere is at Station Park in Farmington. Visit avshuttleutah.com to see its full schedule, share your experience and learn more.

We hope to see you online or off soon enjoying your summer on UTA! g your summer on UTA!