When you're riding the Airport TRAX Line, don't forget to take a look at the artwork at each station. Every stop features a unique piece of art designed to enhance the public transit experience and reflect the area's rich cultural and natural history.
You won't need a ticket to ride the line on Saturday, April 13 if you participate in the Food is Your Fare program. Simply bring a can of food to donate to the Utah Food Bank and ride the Airport Line free of charge. Don't forget to enjoy the free music, food and activities that will be featured at each station as part of the Community Celebration. You can also pick up one of 200 complementary passes to ride the Airport Line during the Friday, April 19 Gallery Stroll at Mestizo Coffeehouse, 631 W. North Temple.
North Temple Bridge Station
Crystal Light, by Catherine Widgery of Cambridge, Mass.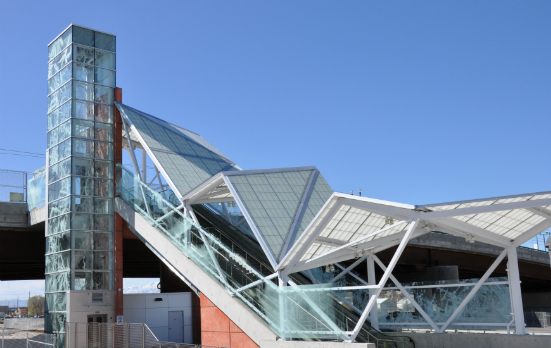 More than 114 pieces of etched glass were used in Crystal Light, the art installation that encompasses the elevator, escalator, and platform windscreens at the North Temple Bridge station. The artwork was designed to embody the energy generated by the dramatic weather patterns along the Wasatch Front. Keep an eye out for the steel discs embedded in the cement to help reflect the light as pedestrians walk across the platforms.
Jackson Euclid Station
Comunidades en Solidaridad: A Collective Transformative Vision, by Ruby Chacón of Salt Lake City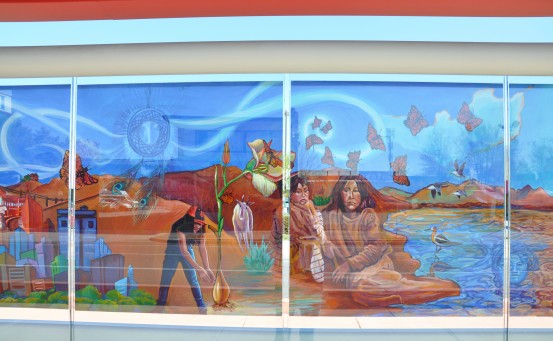 The murals at Jackson Euclid station are a true community effort, involving local artist Ruby Chacón, the Mestizo Arts and Activism Collective, the Mestizo Institute of Culture and Arts, Mestizo Coffeehouse, as well as more than 500 community members, writers, and artist apprentices. The concept for the murals was created by analyzing surveys that had been handed out throughout the community. Local poets, including an 11-year-old boy, then added the written works. The result is a colorful collection of images that reflect the vibrant neighborhoods along the Airport TRAX Line.
Fair Park Station
Fairpark Convergence, by Nancy Gutkin O'Neil of New Orleans, La.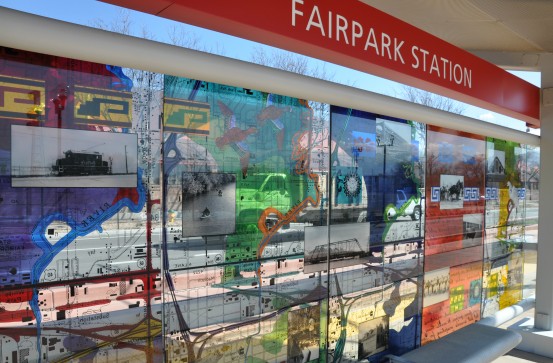 The Utah State Fair Park's history comes to life in Nancy Gutkin O'Neil's windscreen panels. To create the designs, O'Neil conducted interviews, studied archival records, and researched the Fair Park neighborhood. The panels include a collage of details, including historical photographs, textile patterns taken from homes in the area, and hand-written notes from the 1856 Book of Records of the Deseret Agricultural and Manufacturing Society.
Power Station
<