July 26 marked the 28th anniversary of the Americans with Disabilities Act (ADA), which ensures equal rights for individuals with disabilities. UTA employees, riders and members of the community gathered to celebrate the occasion and honor an outstanding rider and employees who have made a difference.
"This is a great thing we've celebrate every year and it's made a difference for a lot of our riders," UTA Interim Executive Director Steve Meyer said.
Tyler Briggs received the "I Choose to Ride Award", given to one UTA rider who chooses to use UTA fixed route service even though they qualify for paratransit service. Briggs was nominated by UTA Operations Supervisor John Barney and Manager Reed Snyder for his positive outlook and willingness to help improve the UTA system.
Tyler Briggs and his family at the July 26, 2018 ADA Celebration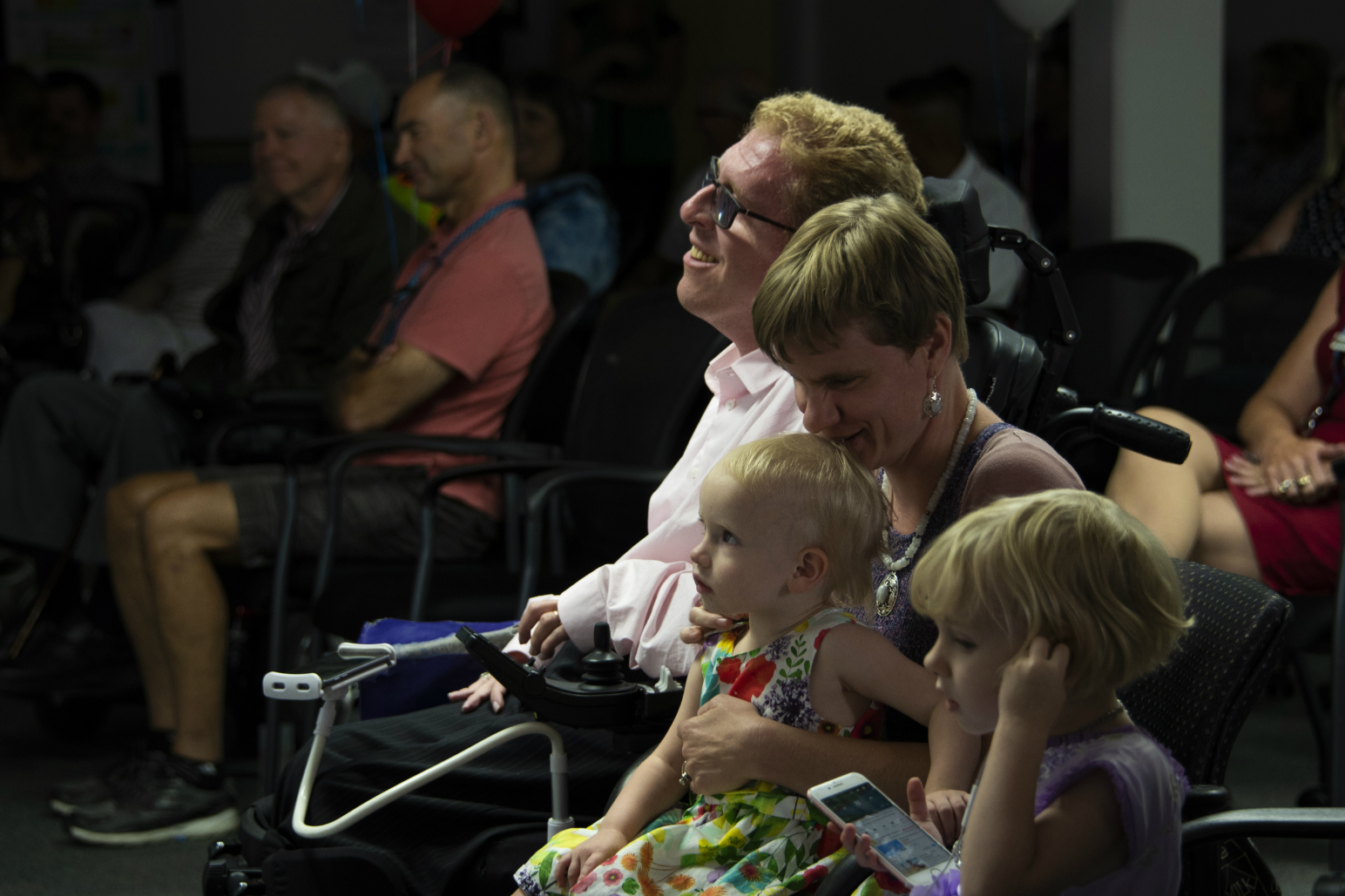 "A great example of Tyler's willingness to help occurred when UTA first started using the MCI buses in 2004," Barney wrote in his nomination. "There was an issue with the barrier on the ramp, making it difficult for customers using the lift to exit the bus. Tyler called me to make me aware of the situation and some of the other challenges he was having with riding our system. Rather than complaining, Tyler shared some ideas for solutions to these issues, and even offered to come down to our yard to help train bus operators."
Congratulations, Tyler! Tyler was featured in a recent UTA video - watch it here.
Several UTA employees were also recognized for their service to riders, specifically riders with disabilities. Bus operator James Phillips was nominated by rider Eric Stoker, who said Phillips helped his passengers find a dry spot of sidewalk where it would be safe to exit the bus on a snowy day.
Bus operator Douglas Fowkes was nominated by rider Lucinda Delquatro, who said Douglas drives extra carefully when she's on board, avoiding sharp braking that can aggravate her medical condition. Lucinda also recognized bus operations supervisor Connie Mason, who has helped train other operators how to secure Lucinda's wheelchair in the bus.
Bus operator Katya Walker was nominated by her supervisor, Art Unrein, for her service to Ogden riders. "Kat loves [route 603] and the people who ride her bus," Unrein wrote in his nomination. "When I ride Kat's bus, she is always in the moment and protective of her passengers. Her passengers are also protective of her. They will tell me about the time that an elderly lady was returning from the grocery store and her grocery bags broke and scattered her groceries all over the sidewalk. Kat secured the bus, jumped out of her seat and helped gather all of the groceries back up."
Bus operator Johnny Reyes was nominated by his supervisor, Michelle Wallace, for his service to riders, specifically a rider in a wheelchair who needed extra assistance on the bus.
Finally, TRAX Operator Frank Spracklen, was nominated by his supervisor Shari Hansen-Klung for safely operating the train and taking extra time to help a group of riders with disabilities board.
Thank you to all of our UTA employees who go the extra mile in assisting riders, and to Tyler Briggs for riding our system and helping us improve. If you'd like to leave a commendation about an exceptional UTA employee, please share your information here.