Summer often brings smoggy, unhealthy air to the Wasatch Front. Vehicle emissions contribute to this smog, releasing nitrogen oxides (NOx) into the air where they mix with volatile organic compounds (VOCs) and sunlight to create unhealthy summer ozone. This ozone leads to poor air quality and can cause breathing issues for people working or exercising outside. Learn more about Utah's air quality here.
UTA has been working hard to reduce the amount of NOx emitted by our bus fleet. As buses are retired from our fleet, they're replaced with clean diesel, compressed natural gas (CNG) or hybrid electric models. We're currently exploring all-electric buses and hope to add some to our routes soon. We've also enforced a no-idling policy that requires bus operators to turn off their engines when parked unless heat, air conditioning or lights are required for operator and passenger safety. In general, bus operators may only keep engines on when parked if the temperature is below 32 or above 90, or if it's dark outside and lights are required to keep riders safe.
These changes have paid off. In 2007, UTA buses emitted 340 tons of NOx. Just over 10 years later, UTA bus fleet emissions have been reduced by 242 tons, for a total of 98 tons.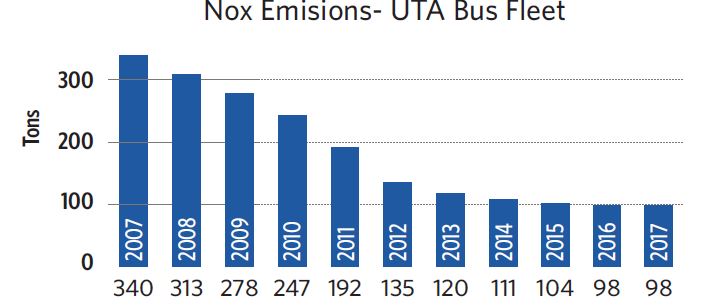 This summer, let's work together for better air quality. When possible, keep your car at home and leave the driving to us. See our schedules and fares and learn about other ways to improve Utah's air quality at www.air.utah.gov.