During the month of May, Utah Transit Authority (UTA) replaced 18-year-old tracks and switches at two locations on Main Street: 150 South and 400 South.
This was no easy task. UTA began planning two years ago with Salt Lake City, UDOT, Downtown Business Alliance and the Davis Chamber of Commerce to determine traffic modeling, windows of construction and impact to Northern Utah businesses and residents. The period of May 4 thru June 2 was chosen because construction would fit perfectly between University of Utah graduation and the Pride Festival.

UTA coordinated and presented to hundreds of businesses determining parking, business access and operating hours to ensure their customers and employees could continue to access every restaurant, attraction, financial institution, and the courthouse.

Construction crews began pre-construction April 15 from 11 p.m. to 5 a.m. to pre-build track and saw cut concrete to speed up the construction process.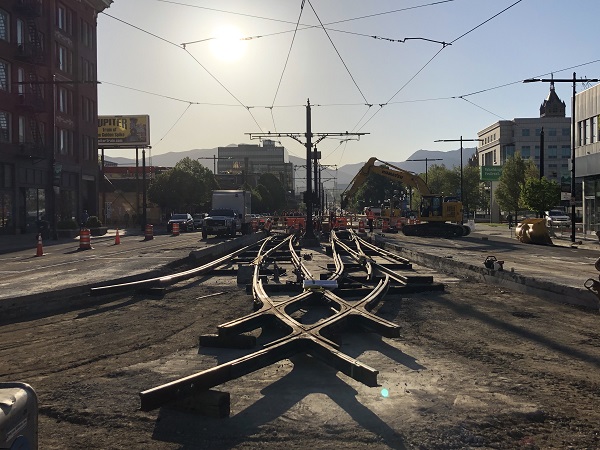 Phase I of the construction process began May 4 with the demolition and excavation of the east, west and north tracks at 400 South and Main Street. Drivers were reduced to only westbound access and riders had to walk from Courthouse to a temporary station near the library or Gallivan Plaza. The construction was scheduled to last until May 21, but we completed this phase of construction two days earlier.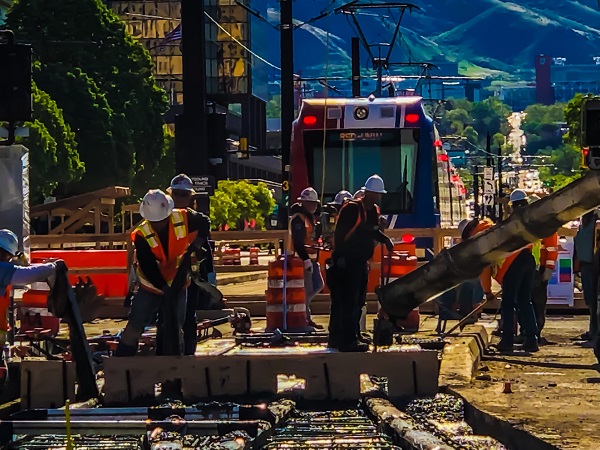 The second phase of the construction process expanded from 400 South to 150 South on Main Street, reducing all traffic flow east/westbound on 400 South and north/southbound access on 150 South for all drivers. It also required all riders to shuttle or walk between Courthouse and City Center Stations. Once again, construction crews worked tirelessly 24 hours a day and 7 days a week to complete construction in five days.

Phase III of the construction process began on May 27, allowing all drivers to access east and westbound access on 400 South. It also began full access to all Red Line riders to every station from University to Daybreak. Blue and Green Line Riders now had a small jaunt between Gallivan Plaza and City Center.

It is amazing to think that in four days construction crews completed removing and rebuilding four more sets of tracks between 100 and 200 South on Main Street. Riders, drivers, and local businesses returned to business as usual on Saturday, June 1, with every TRAX station and road open.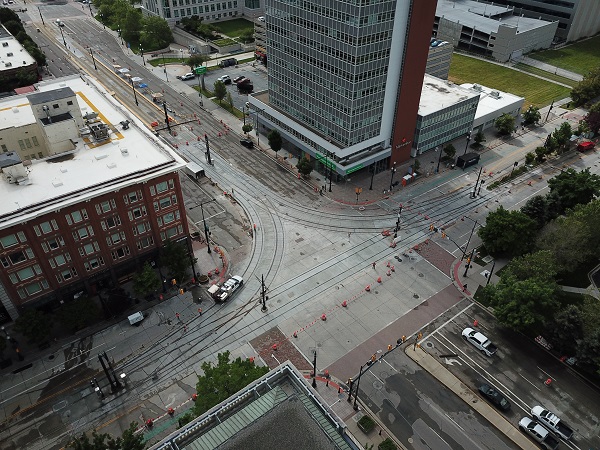 This is one of the largest construction projects for UTA over the past 10 years. The numbers are staggering on the amount of time and effort that went into making this process as painless as possible for riders and drivers. Over 157 volunteers donated 6,135 hours of their time to help guide riders to their next destination, 118,000 water bottles were handed out and recycled, customer service only received six complaint calls, and an unprecedented 11 calls to share positive remarks, and we completed project that usually takes two months in 27 days.


UTA would like to thank our riders, Utah drivers, local businesses and Salt Lake residents for their patience during this construction process. We would like to invite everyone back onto to TRAX to enjoy a safer, smoother, quieter and more reliable ride on our Blue, Green and Red lines. Let us know if you notice the difference!


P.S. We will have a two more construction closures this summer: one to TRAX Arena and Temple Square Stations June 29 to July 7 to replace 18-year-old switches, and a very short one on the S-Line on July 14 from 6 a.m. to 12 p.m. to replace damaged electrical poles. We will have more details soon.

Rider Tip: If you need help planning a route, try Google Transit Maps, Transit App or search our Schedules and Maps for a particular route.