Utah Transit Authority kicked off ski bus service Thanksgiving weekend with some major improvements due to partnerships with Central Wasatch Commission and local ski resorts. We increased service in the Cottonwood canyons, made some adjustments to stops to reduce congestion and made more space in ski buses by removing ski racks.
To date UTA's ski bus service has moved more than 233,000 people up and down the canyons with a 33% increase in ridership over last year. (That's a lot of cars not congesting the canyons!) If you haven't given the ski bus a go yet, here's three reasons to get on board.
1 - It's Easy
To get started, find the ski bus route to your ski resort. Next take transit directly to its starting point or grab a spot at its designated park and ride lot.

Trip Planning in a Nutshell: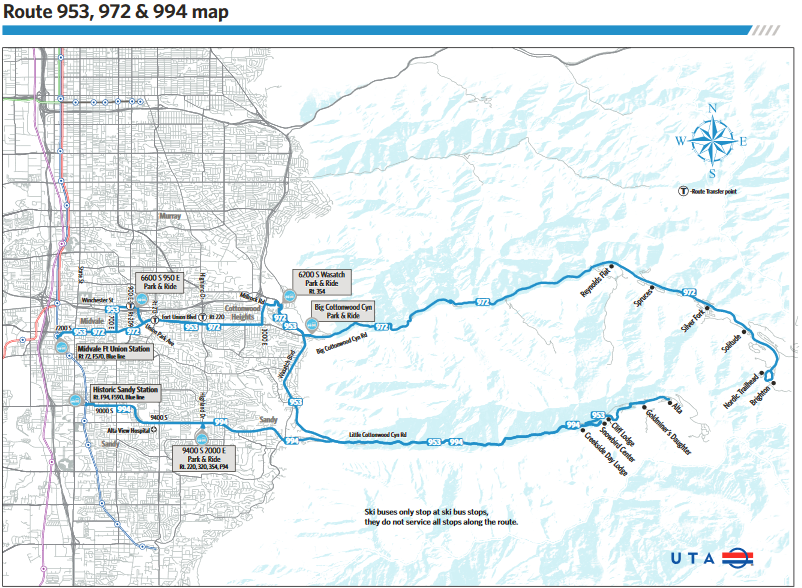 For trip planning information for Park City or Weber, Davis and Utah Counties, please see rideuta.com/ski.

2 - It's Affordable
It only cost $4.50 to ride ($2.25 for seniors) and you have options. You can pay cash if you have the exact amount, use UTA GoRide to purchase your fare, or use your FAREPAY card. Plus, you save the cost of gas and wear and tear on your car.

If you prefer to go multimodal and use the bus, TRAX or S-Line to connect to the ski bus, you can apply your $2.50 fare toward your ski bus fare, only paying $2.00 when you board. With FrontRunner, because the fares are distance based, please refer to your ticket for how it can be applied to your ski bus fare.

If you already have a season pass to Brighton, Alta, Snowbird or Solitude, then you don't have to pay anything, our ski bus fare is include in your pass.

3 - It's Sustainable
The real benefits of riding the ski bus instead of taking your personal vehicle are the intangible ones.
Taking the ski bus:
helps everyone get to the slopes faster by reducing congestion.
is a personal action you can take to have a positive impact on our air quality.
is a vote for more of what you want to see in the canyons: accessibility while maintaining environmental quality.
Tune In
If you want more insider tips for taking the ski bus join UTA and community partners on Friday, March 6 for a Facebook Live at facebook.com/rideuta.
More Resources
www.rideuta.com/ski - good overview of maps and schedules.

Transit app - trip planning, notifications, and vehicle tracking.
Google Transit - trip planning.
R.I.D.E. App - get points for riding or carpooling to win prizes.
UTA Customer service at @rideUTA or 800-RIDE-UTA - we're glad to answer any questions.
Share Your Thoughts
The Central Wasatch Commission, the entity tasked with coordinating conservation and development in the canyons is collecting feedback about the Mountain Transportation System through Sunday, March 1.