UTA emergency management works to unify efforts between government and private sector partners to integrate preparedness plans. We do this that we may better anticipate community needs and meet those needs when the request is upon us.

UTA's emergency management program welcomes opportunities to improve coordination with local and state response agencies in our service areas through training and exercise. Improved coordination increases resource familiarization, response capabilities, and improves our readiness to support our partner agencies efforts when managing community-wide emergencies.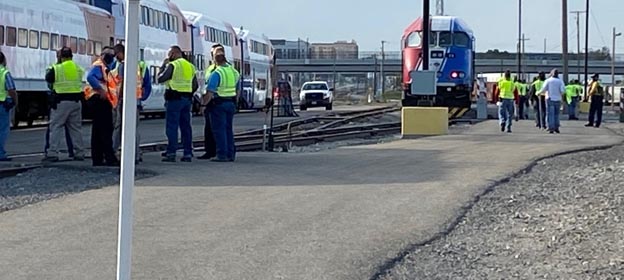 Mission Statement
The mission of the UTA Office of Emergency Management is to facilitate disaster and emergency planning, mitigation, preparedness, response, and recovery efforts within UTA and in cooperation with our regional partners. This mission supports our role as a community lifeline for Utah and benefits our patrons and our partners as a critical transportation provider.
Vision Statement
Prepare now, that we may stand ready and remain calm during times of crisis until normalcy returns.

At UTA we are federally required by 49 CFR 239.103 for our commuter rail and by 49 CFR 659.19 for our light rail to conduct exercises. As part of this process UTA conducts exercises as required.
Report a Safety Concern or Crime
See Something? Say Something! If you see a safety concern, crime or another matter you feel needs an immediate UTA Police response, please report it:
Call 9-1-1—if there is an emergency, it is best to call 9-1-1
Call UTA Police Dispatch—to reach UTA Police by phone, call 801-287-3937 (801-287-EYES)
Text us—send text messages to UTA police at 274-637 (CRIMES). Start your message with UTATIP and then include your message.
If your concern is not urgent, you can report them through this website by clicking on a link below: