Overview
At UTA, our purpose is rooted in moving communities with safe and reliable public transportation. UTA is working to move Utah to a stronger economy, cleaner environment, increased mobility, greater access to opportunity, and better quality of life. Transportation is core to communities and communities are core to UTA, which is why we are reflecting and building upon community engagement efforts. In 2018, UTA developed a community relations plan to initiate and guide focused efforts around community engagement. In 2023, we are assessing how it's been going, areas for improvement, and identifying priorities for engagement over the next 5 years. UTA's Community Engagement Department is working in partnership with Talitha Consults to develop the UTA Community Engagement Strategic Plan. This work involves extensive internal and external stakeholder and public involvement to ensure a range of perspectives inform the plan and priorities at UTA.
Process
UTA has hired a consulting team – Talitha Consults – with expertise in community engagement and public transit. Talitha is supporting the assessment of current state to understand opportunities and challenges, as well as development of the strategic plan.
The outcome of the process includes a Community Engagement Strategic Plan that will outline priorities and recommendations for community engagement at UTA. The plan is expected to be completed in 2023 and shared here, as well as with partners and the public.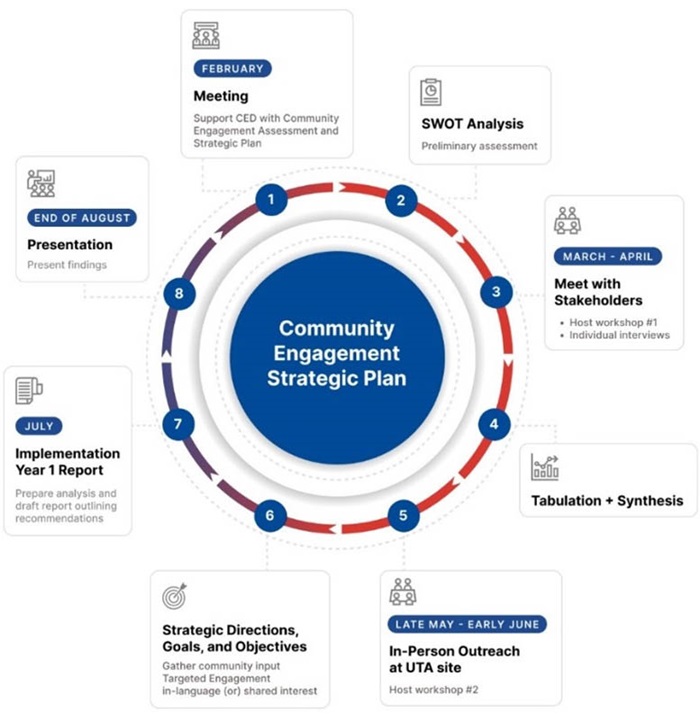 Moving Forward
UTA is invested in creating more meaningful opportunities to engage with the community, including being a community partner and resource. Community engagement efforts support an effective public transit system, where communities have the information they need, have support in accessing transit services, and feel included in the process.
Stay in Touch
Email us at community@rideuta.com with questions about this initiative or other community engagement related topics.