Quarterly Dashboard
ADA Accessible Bus Stop Dashboard: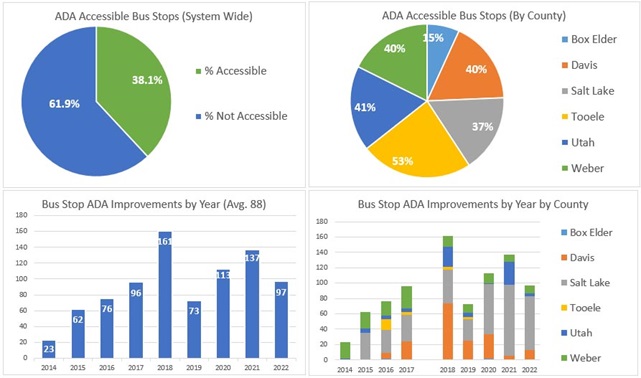 Frequent Transit Network
In partnership with Salt Lake City, UTA has been making bus stop improvements across the city. The primary purpose of the changes to existing bus stops is to make them accessible to all riders, including people with disabilities. Changes will vary by location but typically include replacement of sidewalk panels and new concrete pads with the addition of shelters, benches, trash cans, bike racks, and lighting – all to make the riding experience better.

Phase 1 (2020-2021) has focused on making improvements on the following existing bus stops and routes in Salt Lake City:
South Temple: 200 East to Virginia St (Route 206, Route 209)
500 East: 300 South to 2500 South (Route 205)
2100 South: West Temple to 2100 East (Route 21)
2100 East: 2100 South to Foothill Blvd (Route 21)
Phase 2 (finishing in 2022) focused on making improvements on the following corridors to accommodate new transit service and increase access primarily in Salt Lake City's neighborhoods:
1000 North (Redwood Road to 900 West)
600 North (Redwood Road to 900 West)
900 West (1000 North to North Temple)
Downtown (various locations)
Foothill Blvd (near Sunnyside Avenue)
Redwood Road (North Temple to 600 North)
The map below illustrates where the new Westside routes began running in fall 2022. This new high-quality service is part of Salt Lake City's Frequent Transit Network (FTN) bus routes—designed to provide faster connections and direct east-west service to destinations and employment centers like the University of Utah, Downtown SLC, and better connect to the regional transit system.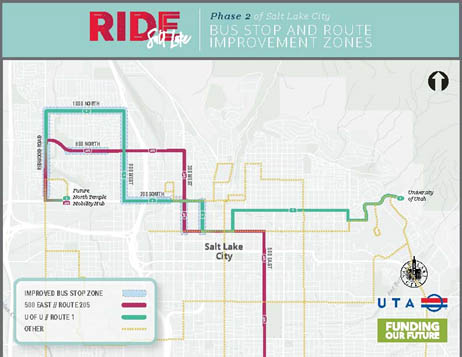 With the new bus routes in place, there is an opportunity to adjust the existing bus routes that currently circulate in SLC's Westside neighborhoods. Salt Lake City launched UTA On Demand rides powered by Via on SLC's Westside! This new service is in SLC's Westside neighborhoods as of December 2021. Visit rideuta.com/OnDemand for more information and to provide your input.

The Frequent Transit Network is a collaboration with Salt Lake City, find out more:
https://www.slc.gov/transportation/transit/

To learn more about SLC bus stop construction:
Call 801-535-6630 | Email transportation@slcgov.com

To learn more about UTA bus service/changes:
Call 801-743-3882 | Email rideuta@rideuta.com
Bus Stop Master Plan (BSMP)
Because of the expansive inventory of more than 5,396 bus stops, stops are most often public's first impression of UTA and its presence in the community. UTA's objective is to make bus stops a positive contribution to the community. It is important that bus stops, to the maximum extent possible, are easily identifiable, clean, safe, accessible, and a comfortable place to wait for the bus. To achieve these objectives, UTA has adopted the Bus Stop Master Plan (BSMP), which provides an inventory of existing conditions, as well as a common set of goals, design principles, design guidelines and policies to promote consistency in the design and provision of bus stops and their associated amenities. The aim is to ensure that stops are suited to their location, operationally functional and attractive to current and potential riders.

The Bus Stop Master Plan outlines and encourages partnerships with local governments and property owners. UTA is continually working with communities to improve access to bus stops, including sidewalks, street crossings, curb ramps and bicycle lanes.

This document contains four major sections. They are (1) a brief introduction to the purpose and need as well as the goals for the master plan, (2) a description of the existing conditions, (3) the design criteria and guidelines (4) a prioritization methodology for managing the bus stop capital improvement program.

Read the full plan here.
Adopt A Stop
UTA has a new pilot program to encourage community stewardship and partnerships for the bus stops on our system. Similar to an Adopt-A-Highway program, UTA's Adopt-A-Stop Program invites community organizations and businesses to take care of a nearby bus stop by performing basic maintenance, like trash pickup, snow removal, and salting. The program provides partners with a direct connection to UTA to care for the stops. Partners are also invited to create artwork and install a shelter wrap, creating an enhanced ridership experience and creative placemaking in the neighborhood.

Find out more at rideuta.com/AdoptAStop

For questions and inquiries about the Adopt-A-Stop Program, contact: community@rideuta.com
Featured Bus Stop
Get in Touch:

For questions about UTA's Bus Stop Improvement efforts, contact Trevan Blaisdell, tblaisdell@rideuta.com

You can always reach out to our Customer Service team with questions and concerns about our bus stops: rideuta@rideuta.com, 801-743-3882