Snow routing occurs when UTA buses are unable to follow their regular route due to inclement weather. If there is a substantial amount of snow or ice on the roads, buses will avoid steep hills in favor of safer routes. Snow routing only affects select UTA bus routes and stops and is only put into place during or immediately after severe weather. Once roads are cleared, buses will resume their regular routes.

Bus stops that are subject to snow routing are indicated by a snowflake symbol on the bus stop sign. New bus stop signs have a white square, and older bus stop signs have a blue metal flag.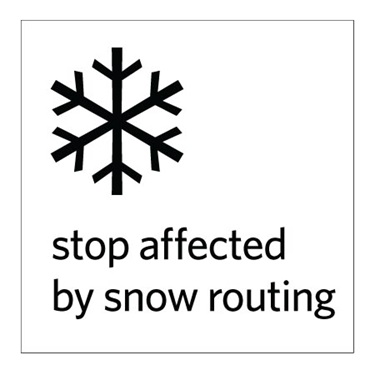 Snow Affected Routes and Maps
When a bus is on snow routing, it will detour from its regular route. You may need to catch your bus at a different location during this time. See below to find your route's specific snow routing map to determine where to catch the bus. If you need assistance, please call 801-743-3882 or contact us on Twitter at @RideUTA or sign up to receive route-specific notifications.

Salt Lake County
Route 2
Route 9
Route F11
Route 17
Route 33
Route 35
Route 39
Route 45
Route 72
Route F94
Route 209
Route 213
Route 220
Route 223
Route 455 (University of Utah)
Route 470
Route 473

Weber & Davis Counties
Route 455 (Highway 89)
Route 455 (Weber State University)
Route 470
Route 473
Route 612
Route 625
Route 627
Route 640
Route 645

Utah County
Route 822
Route (UVX - BYU)
Route (UVX - UVU)
Route 831

* These routes have multiple snow routing options. Transit app and Service Alert notifications indicate which snow routing is being used on these routes. You can also call Customer Service for snow routing info.
Get Notified
For snow routing alerts and more, download Transit — UTA's official app— or sign-up for Service Alerts to get notifications by text message or email. Both Transit and Service Alerts deliver real-time disruption and detour notifications to your phone for your favorite routes.