It's that time of year again — August Change Day! We do three Change Days a year. December welcomes Ski Bus service plus other adjustments, and April Change Day marks the end of Ski Bus service plus a few other adjustments. August Change Day is our big one where we often welcome new lines and make larger changes. We're doing exactly that on August 20!
Welcome Aboard OGX!
Our newest Bus Rapid Transit (BRT) goes live this Change Day — OGX. This 5.1 mile route connects Ogden Central Station to McKay-Dee Hospital, and along the way serves numerous schools and entertainment spots, as well as Weber State University. We hope you'll join us in celebrating this monumental achievement at Farmers Market Ogden on Saturday, August 26. We'll have an all-electric OGX bus available to check out and prizes to give away.
More TRAX and S-Line on Saturdays
Post-August Change Day, you now only have to manage two schedules for our light rail: Monday-Saturday and Sunday. That's right, the service hours and frequency are now the same on Saturday as they are during weekday. In short, you now can enjoy 15-minute service on TRAX and S-Line every Saturday.
A Few More FrontRunner Trips
We are extending existing FrontRunner trips northbound and southbound to run the full line, as well as adding two more new trips into the schedule and one additional new trip on Friday evenings.
New Long-Term Detours and Temporary Routes
You may have noticed a little construction on 200 South in Downtown Salt Lake City. The major street redesign project aims to create a Transit Priority Corridor that makes numerous improvements to increase reliability and ease of use for UTA riders along the most transit-dense street in our service area.

Routes 1, 2, 4, 9, 205, 209, and 220 will have new or adjusted temporary routes starting August 20. As the construction work moves westward (roughly 400 West to State Street), these routes will be on new temporary routes. Given the duration of the work, these changes are reflected in our schedule maps and trip planning tools like the Transit app. You can also see the route reflected on the bus stop sign with yellow label indicating the stop as part of it's temporary route.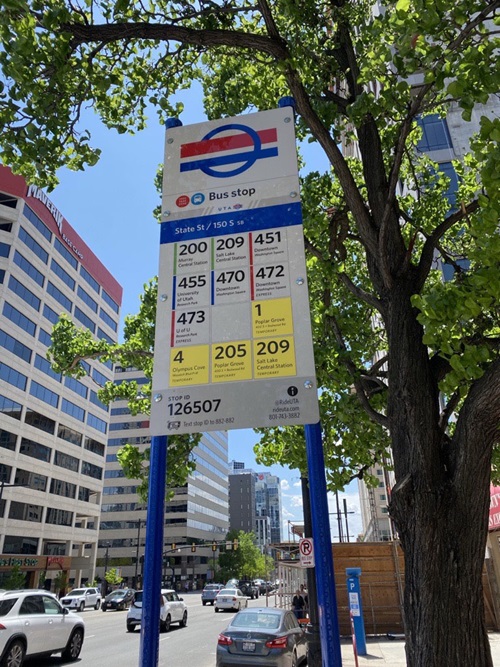 Steps Closer to Our Transit Future
These changes reflect incremental steps of Five-Year Service Plan that aims to increase coverage and frequency.

A key factor in making this Change Day possible, and in our continued progress to provide more service, is the successful hiring of bus operators. In the past year, we held new hiring events, increased the hourly wage, and improved our onboarding process to more quickly engage our operators in UTA's mission. This has resulted in a 750% increase in applications over last year, and our hiring is on schedule to reach our April 2024 service goals!

See the image below to see how our three Change Days work with our other plans to meet the ever-changing needs of the Wasatch Front.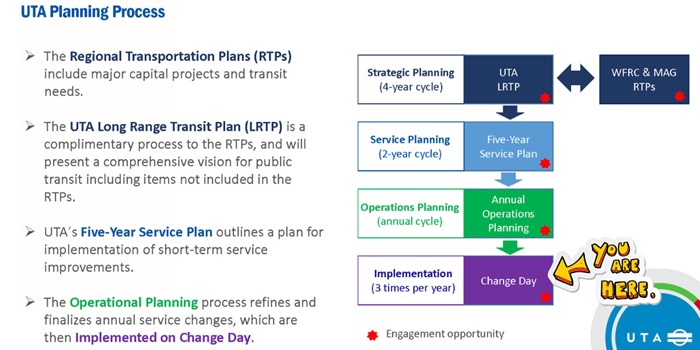 Other Changes
We covered the big changes taking place this Change Day, but as always, we encourage you to review the full list of changes to see if any routes you use will be affected. Head to rideuta.com/august to get detailed information.