What is Transit-Oriented Development (TOD)?
It is development that is: compact, vibrant, mixed-use, walkable, formed around a well-connected street grid, connected to other areas of the region via high-capacity transit, and designed with the station as a prominent center.

TODs are destinations designed for people and reflect the core values and priorities of the community. They occur within the existing urban context and compliment the surrounding area. They act as gathering places, designed at a human scale, both intuitive and comfortable. Streets, paths, buildings, open space, and other aspects of the environment are organized to optimize access to and from public transit, making it convenient for people to get where they want to be. TODs may become economic generators for their communities because of their variety and intensity of land use.

By optimizing land use and accessibility, Transit-Oriented Development decreases traffic congestion, improves air quality and public health, lowers the cost of living, and makes opportunities more accessible. (http://tod.org/)
Check out how each of UTA's rail stations compare against one another for TOD development potential!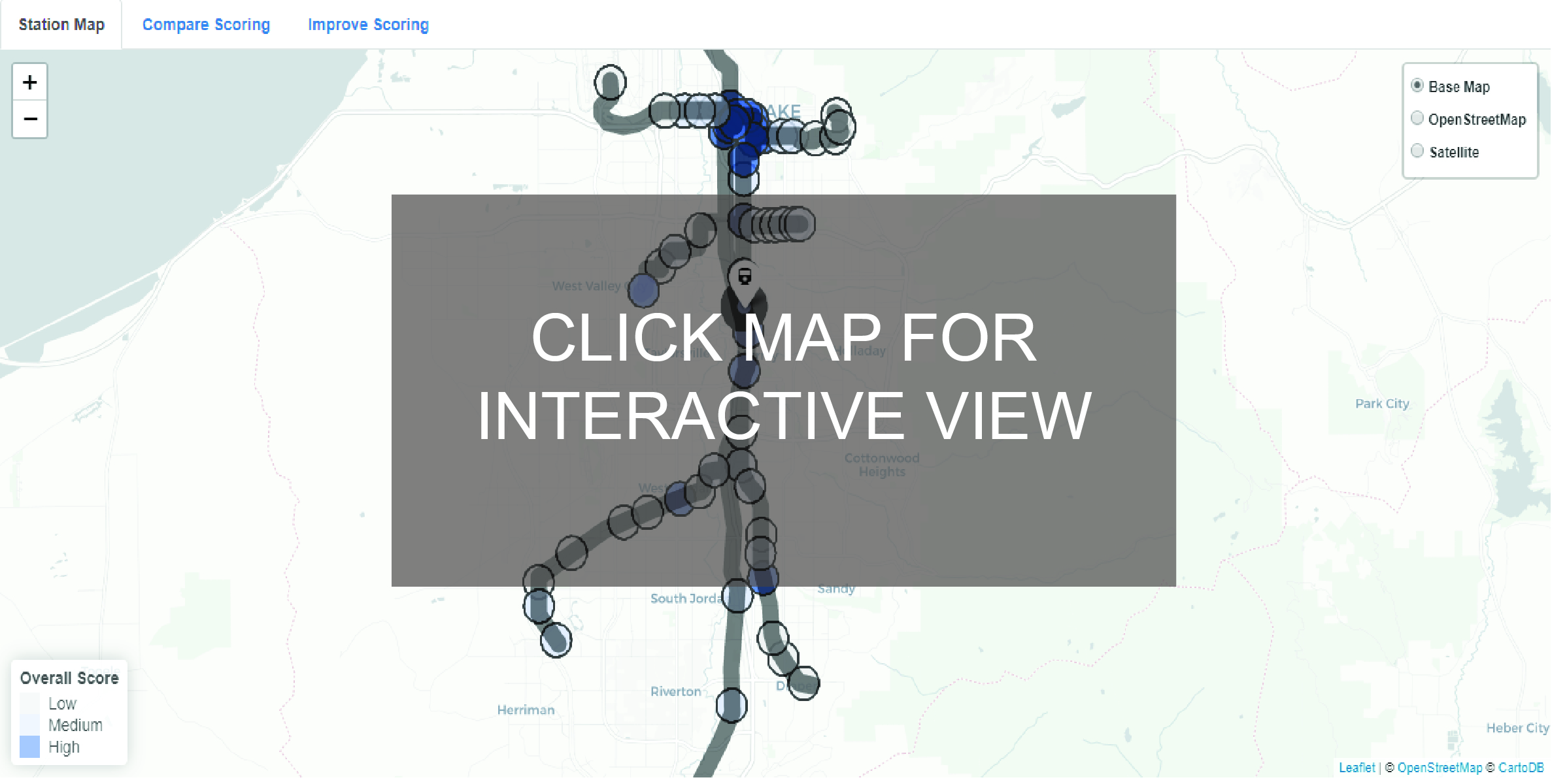 How to Implement TOD
To properly implement TOD, cities and stakeholders must first understand the context of a station area. Comprehensive analysis and planning near stations (approximately ½ mile from a station) allows communities to form a vision that preserves and represents the priorities of the community and any stakeholders involved. Station area plans ought to include a list of specific steps necessary to achieve the vision, as well as a map that depicts properties eligible for specific development options. Station area plans allow cities to align policies with the Wasatch Choice 2050 Vision. Assistance with planning efforts is provided by Wasatch Front Regional Council, through the Transportation and Land Use Connection Program. (
https://wfrc.org/programs/transportation-land-use-connection/
)

To address the increasing cost of living in our communities, recent legislation encourages cities to promote affordable housing choices. A mix of housing should be integrated into the overall context of a station area. Locating a variety of housing options near transit stations ensures access to regional opportunities and lowers the overall cost of living for its residents.

Various funding options are available that enable developers to create quality places. Sources such as Transportation Reinvestment Zones (TRZ) and Community Redevelopment Areas (CRA) use tax increment to offset infrastructure costs, thereby reducing the overall cost of development. Establishing these financial instruments takes time and commitment from multiple stakeholders and should be considered during station area planning.

Places where people live, work, and play, especially near transit stations are preferred land uses. Parking is not a productive land use, is costly, and requires a considerable amount of space. TOD aspires to reduce the amount of parking near transit stations, while making transit services more accessible.

Reducing parking becomes feasible as streets and pathways become functional for a variety of transportation modes. Dedicated bike lanes, bridges over barriers, and comfortable pedestrian facilities make it possible for people to travel from origins to destinations in a diversity of ways. When paired with emergent technologies, such as bicycles, dockless scooters, rideshare services, and trip-planning apps, a larger portion of the population will begin to access transit without using an automobile.

Cities and other jurisdictions must adopt and enforce appropriate land use regulations and policies for TOD to be realized. Such regulations allow more intense land uses to occur near stations and may specify design criteria that encourage pedestrian-friendly design in the area. Station area planning is a useful way to understand what policies may be appropriate.
Property Owned by public entities, such as the State, individual cities, redevelopment agencies, or UTA, may be developed in partnership with private developers.
Joint ventures allow cities and other public entities to maintain an active role in the development, thereby streamlining the development process and ensuring that the shared vision of the community is realized. (
https://transit.dot.gov/TOD
)
Interested Real-Estate Developers
If you're interested in collaborating with us on a development, please review our UTA TOD Policy and Procedures, Standard Operating Procedures, Design Guidelines, and Station Area Plans to learn more about our process, requirements, and expectations.

UTA is committed to fair and orderly processes and procedures. An example of this is our Request for Proposals (RFP) process, by which UTA selects partners for individual development projects. If you would like to get notice of future RFP's and other exciting news, please sign up for our email list.
Contact Information
If you have questions about available property or a current development, please contact us:
Paul Drake
pdrake@rideuta.com
801-237-1975
Jordan Swain
jswain@rideuta.com
801-237-1984
Kevin Leo
kleo@rideuta.com
801-237-1996