FrontRunner Construction at Provo Station
Utah Transit Authority will be relocating our power stations at the Provo Station in November and December. Please use the following details to plan your trip:

Dates:
Nov 18-25
Nov 30 – Dec 11
Times:
Location:
Boarding Changes
East platform will be closed
Use the west end of the platform to enter the station and board the train on the north side of the platform
Expected Delays:
FrontRunner schedule:
Questions

We appreciate your patience during this construction. If you need help planning your trip, please contact customer service at 801-743-3882 or download transit, UTA's official app for mobile trip.
TRAX Airport Station Shuttle
September 2020 - July 2021

Utah Transit Authority is building a new TRAX Airport Station for the all-new Salt Lake City International Airport. The existing Airport Station will go out of service on September 11, 2020. The following sections highlight the details for this construction project:

TRAX Green Line Riders

Sept 15, 2020 – July 2021
From TRAX to the Airport:

Ride TRAX to the Temporary Airport Station
Board the Airport Shuttle on the East Side of the platform
Ride the Free Shuttle to the new airport terminals. During weekdays, there is a UTA and Airport Shuttle every 15 minutes before 7 p.m., and 30 minutes afterwards. On weekends, there is a UTA Shuttle every 30 minutes (see specific shuttle times below).

From the Airport to TRAX:

Go to the ground level of the airport and board the shuttle between doors 2A and 3A
Take the Free Airport Shuttle to the Temporary Airport Station. During weekdays, there is a UTA and Airport Shuttle every 15 minutes before 7 p.m., and 30 minutes afterwards. On weekends, there is a UTA Shuttle every 30 minutes (see specific shuttle times below).
Ride TRAX to your final destination. Last TRAX pickup is 11:14 p.m.

Shuttle Service Hours of Operation:

Weekday Hours: 5:32 a.m. - 11:06 p.m., 15 min service before 7 p.m. and 30 min after 7 p.m.
Saturday Hours: 6:25 a.m. - 11:25 p.m., arrives every 30 min
Sunday Hours: 6:25 a.m. - 8:56 p.m., arrives every 30 min

Purchasing Passes:

No TVM service will be available at the temporary Airport Station
Purchase passes on the GoRide App
Purchase passes on any TVM located from 1940 West to West Valley Station

Plan for 15-30 minute delays
Click Here for a TRAX Green Line Schedule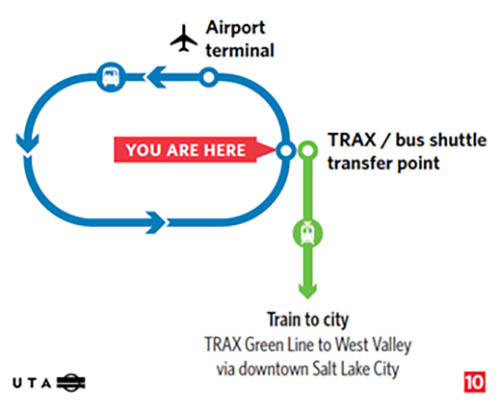 July 2021
Ride TRAX to the NEW Airport Station located near the airport terminals
No shuttle will be required
Regular TRAX Green Line service will resume
Click Here for a TRAX Green Line Schedule
Questions

We appreciate your patience during this construction. If you have further questions on planning your transit trip or driving during this construction please contact customer service at 801-743-3882