TRAX Red Line Construction & Bus Bridge
UTA will be replacing S-Curve rail lines on University Boulevard between 900 and 1100 East in Salt Lake City.

Crews will be removing and replacing existing track on the TRAX Red Line between 900 East and 1100 East. This will result in a bus bridge on the TRAX Red Line from 900 East Station to Stadium Station. Please use the following information to plan your trip:
General Construction Impacts:
Construction Dates: May 8 – July 11, 2023 – 24/7 Construction
What to Expect:

Residents & Businesses: 24/7 construction noise from heavy equipment and vehicles; nighttime construction noise and lighting; noise, dust, vibrations
Drivers: Inside lane closures eastbound and westbound on 400 South. Expect delays and consider alternative routes.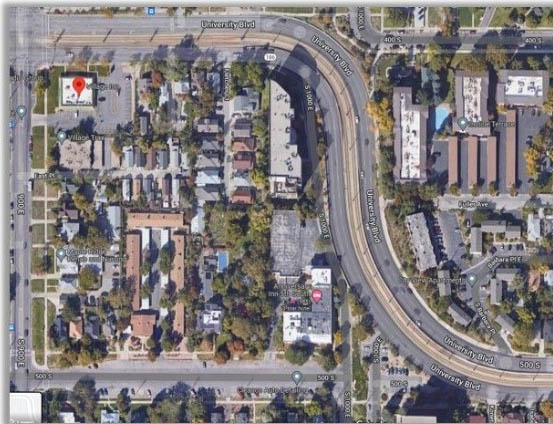 200 South Corridor Construction Detours
Since mid-2022, Salt Lake City has been spearheading a reconstruction of 200 South. Construction will continue through the remainder of 2023.

Six UTA bus routes are on detour through the remainder of construction. These are Route 1, 2, 4, 220, 209 and 205. Please know that riders will still be able to get to their destination, it may just take a little longer. For individual route maps, click the thumbnail maps below. In addition, the Transit app highlights the detours and temporary stop locations for each route impacted.
For construction information from Salt Lake City Corp, visit: https://www.slc.gov/mystreet/2023/02/16/200south/

To receive up-to-date information from the City on the 200 South corridor construction, sign up for updates at 200south@slcgov.com, or call the project hotline at 385.341.8646.

The rebuilt 200 South corridor will improve mobility and safety for all users, including pedestrians and cyclists, and provide more efficient and convenient transit for generations to come.

Thanks in advance for your patience and understanding.
OGX Ogden Central Station Construction
Utah Transit Authority is beginning construction on the OGX Ogden Central Station at the Ogden Intermodal Hub. This will result in a shift in FrontRunner pedestrian and ADA parking access, modified drop-off areas, and road and parking stall closures. Please use the map and information below to access UTA bus routes and FrontRunner trains.

Dates
Oct 3, 2022 - April 30, 2023
Schedule subject to change due to weather conditions, emergency situations, and equipment/supply issues.
Times
24-hour construction noise
Service
FrontRunner Riders

No delays in service
Regular 30-minute peak and 60-minute off-peak service on weekdays and Saturdays
Parking and road access will be closed near the construction area (see map below)
Pedestrian access will move further south (see map below)
FrontRunner ADA parking will be accessible via the North driveway.
Rider drop-off will move east of the construction area (see map below)

Bus Riders

No delays in service
Regular daily bus service will continue
Parking and road access will be closed near the construction area (see map below)
Bus stop access will not change in the Ogden Intermodal Hub
Construction Map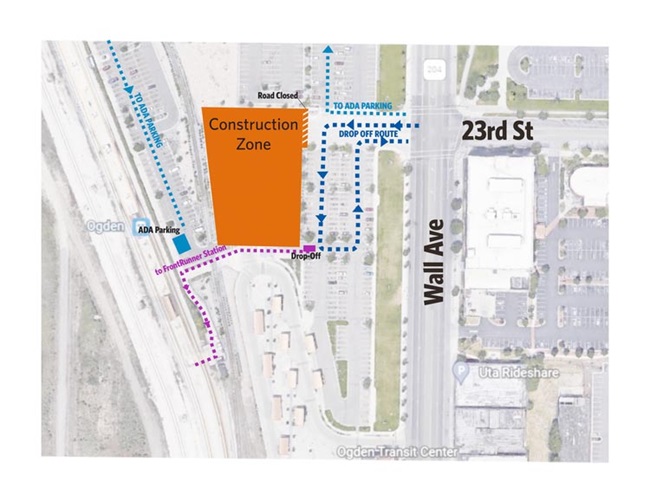 Clearfield FrontRunner Station Construction
STATION BOULEVARD IS NOW OPEN!

Station Boulevard connects State Street to the Clearfield FrontRunner Station. Additionally, Station Boulevard provides new access to parking and the pick-up/drop-off area at the station. Additional access points and new roads will be completed this summer.

The Utah Transit Authority (UTA), in conjunction with Clearfield City, is developing a mixed-use master development project at the Clearfield FrontRunner Station. This type of project is often referred to as a transit-oriented development or TOD.

Currently, construction and installation of infrastructure and utilities is underway. Upon completion of critical utilities and infrastructure, development of the site will begin. During the construction phases, it will be necessary to have temporary parking and vehicle/pedestrian access. These accesses will be adjusted from time to time depending on construction.

During construction, it is important to follow all signage relative to parking and vehicle/pedestrian access. This is important for your safety.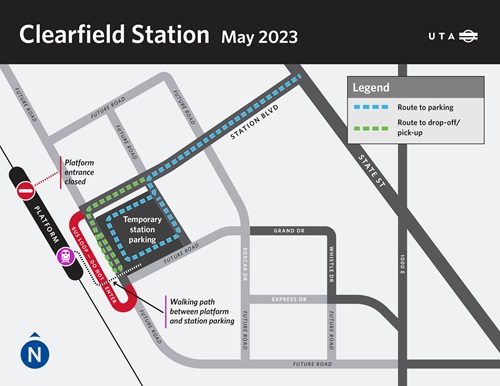 Provo Pedestrian Bridge Construction
UTA will begin Tiger Project work to relocate some utilities for the new Pedestrian Bridge at the Provo FrontRunner Station. These utility relocations will result in 3 ADA stalls being relocated to the south of the existing stalls (see map below).

Full construction will begin November 1, 2022 and last for approximately 10 months. Majority of the construction will be during the day, but there will be intermittent night work throughout the project. Residents and businesses should expect standard construction noise from equipment and vehicles. For any further questions about the construction please contact Provo City at (801) 852-6000.

Download the Provo Pedestrian Bridge Construction Flyer, here.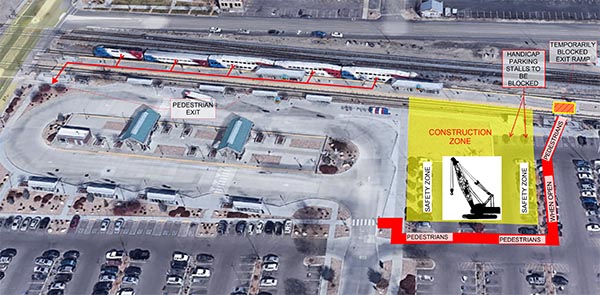 TRAX Substation Replacement
Utah Transit Authority is replacing 20-year old TRAX substation parts on the Red, Blue and Green Lines over the next three years. There will be no impact to riders for this construction; however, there will be minimal day and nightwork noise due to trailers, trucks, excavators, concrete mixers, cranes and cable pullers. The following section highlights the dates, locations, and details for these construction projects:

9400 South **COMPLETED**
Dates: 8/15/2022 - 1/23/2023
Location: 9735 150 E, Sandy, UT 84070
Details: Click Here
Collet (Midvale) Yard

**COMPLETED**
Dates: 8/17/2022 - 1/23/2023
Location: 6961 S 600 W, Murray, UT 84123
Details: Click Here
900 East

**COMPLETED**
Dates: 12/19/2022 - 2/10/2023
Location: 914 E 400 S, Salt Lake City, UT 84102
Details: Click Here
Sugar Highway
Dates: 1/23/2023 - 5/1/2023
Location: 189 W 7200 S, Midvale, UT 84047
Details: Click Here
University of Utah Rice Eccles Stadium
Dates: 4/12/2023 - 5/31/2023
Location: 1355 E 500 South, Salt Lake City, UT 84102
Details: Click Here
Husler
Dates: 6/23/2023 - 8/18/2023
Location: 214 West 2700 South, South Salt Lake, UT
Details: Click Here
200 East
Dates: 3/13/2023 - 5/24/2023
Location: 227 East 400 South, Salt Lake, UT
Details: Coming soon
University of Utah Medical Center
Dates: 5/2/2023 - 6/29/2023
Location: 32 Mario Capecchi Drive, Salt Lake City, UT 84112
Details: Click Here
Pallas Yard
Dates: 5/25/2023 - 7/21/2023
Location: 5835 S. 300 W., Murray, UT
Details: Coming Soon