Updated: February 2, 2021

UTA Supports CDC Face Mask Requirement
Federal Guidelines Reinforce Preventative Measures UTA Implemented in July 2020

The CDC is implementing provisions of President Biden's Executive Order on Promoting COVID-19 Safety in Domestic and International Travel, requiring the wearing of face masks by all travelers into, within, or out of the United States, including public transit.

UTA advises riders and the public that it is already in compliance with the Executive Order, having instituted a requirement last July mandating all passengers wear face masks covering both the mouth and nose while waiting, riding and disembarking all transit vehicles.

"Transportation systems such as ours are essential, and UTA has been pro-active with safety measures since the start of the COVID-19 pandemic," says UTA Executive Director Carolyn Gonot. "The federal requirement reinforces what UTA has already been doing to keep our workforce and riders safe by requiring the wearing of masks while waiting at a station and while riding UTA's buses and trains."

Signs are posted on the bus and rail system advising riders of the mask requirement, and UTA is providing face masks on vehicles for riders who need them. Masks are also available for pick up at UTA Customer Service locations. Riders may also call Customer Service at 801RIDE-UTA and have a mask mailed to them. UTA is enforcing the mask requirement with information and education.

Children under 2 years of age as well as employees and riders who have a medical condition preventing them from being able to wear a mask are exempt from the requirement.

For more information on the President's Executive Order or to view frequently asked questions, visit: https://www.cdc.gov/quarantine/masks/mask-travel-guidance.html.
What We are Doing to Keep You Safe
Vehicle, Station and Facility Cleaning
In addition to our regular daily vehicle and station cleaning, we have implemented additional disinfecting measures to keep you safe, including:
Disinfecting all vehicles, stations and facilities daily, including all surfaces that are frequently touched using EPA-approved disinfectants and electrostatic backpack disinfectant sprayers.
On UTA On Demand by Via, we have increased our cleaning and disinfecting procedures to ensure the safety of our riders. We have also implemented in-app wellness checks for riders and drivers to confirm they are symptom free before riding or driving.
We are periodically testing vehicle surfaces using ATP monitoring to verify the effectiveness of cleaning and disinfecting measures on vehicles.
Social Distancing on Transit
We have taken several measures to promote social distancing on our system to protect our riders and employees. Please follow CDC guidelines for protective measures, such as wearing a face covering and maintaining a 6-foot distance from others. We ask that customers avoid riding if they are sick or experiencing COVID-19 symptoms.
A plexiglass operator barrier has been installed on our buses to protect operators and riders. Passengers who need the ramp or require assistance may still board/alight through the front door and make their way past the barrier to their seat, or the area where their mobility device will be secured.
On buses, passengers are asked to stay behind the yellow passenger line, which has been moved back to provide 6 feet of distance between operators and riders.
Signs have been posted on our buses advising riders to board through the rear doors. Passengers that need the ramp or require assistance may still board through the front door.
On TRAX and FrontRunner, yellow ropes or signs designate an area of separation between operators and riders to promote social distancing. Customers with disabilities who need to use the ramp to board/alight are still being accommodated.
Bus operators and Transit Police Officers are not physically handling passes and will be conducting visual fare inspections only.
On UTA On Demand by Via, we are reducing the total number of passengers in each shared ride to a maximum of 3 people per vehicle to ensure riders can maintain a comfortable distance from each other. We are also installing a physical partition between the driver cabin and passenger seating area.
Additional Safety Measures
We are providing complimentary face masks to riders who need them. Face masks are available on most buses and trains, or for pick up at our Customer Service locations. You may also call 1-801-RIDE-UTA and we will mail a mask to you.
Hand sanitizer is available on our vehicles. We also provide hand sanitizer and appropriate PPE to our operators and employees.
What You Can Do to Stay Safe
We all have a part in preventing the spread of COVID-19 and can keep everyone safe by following recommendations from our health experts:
Wear a face covering while out in public
Stay home if you are sick or have been in close contact with someone who has the COVID-19 coronavirus
Wash your hands often with soap and water for at least 20 seconds
Disinfect shared surfaces and frequently touched objects
Avoid touching your eyes, nose and mouth
If you have to cough or sneeze, be sure to do so in your arm or a tissue
Service Adjustments
Similar to other transit agencies across the country, UTA has seen a significant decrease in ridership due to the COVID-19 pandemic. With the lower than normal ridership, we are seeing a decrease in fares and expect a decrease in our sales tax revenue. As part of the ongoing effort to limit the spread of the COVID-19 virus and ensure fiscal responsibility, we have implemented several service adjustments to meet current ridership levels and allow for social distancing on our vehicles.

Our most recent service adjustments took place on November 29, 2020 for our annual November Change Day. After restoring 90 percent of our service in August, we remain at a similar level of service with a few adjustments and small additions. Key changes made in November include additional trips on some flex routes and the start of UTA's regular seasonal ski service. More information can be found here.

We continue to closely monitor ridership data, as well as feedback from our customers and the community, and are prepared to make further adjustments to ensure we continue to operate safely.

Use one of the following tools to plan your trip and be sure to check our holiday schedule information:
Paratransit Service
Paratransit service continues to operate as normal to provide service to riders for their essential needs. We are available to serve you Monday- Saturday 7:00 am-5:00 pm and Sunday Voicemail only from 9:00 am-5:00 pm.

After 3:00 pm we only schedule trips for the next service day.

In order to keep you and our operator's safe, we ask that riders cancel any non-essential trips at this time. If you need to cancel a previously scheduled trip, please call 801-287-7433 as soon as possible.

UTA's Mobility Center, which facilitates UTA's Paratransit eligibility process, is continuing to provide in-person eligibility appointments.
The Mobility Center hours of operation Monday-Friday 8:00 a.m. – 4:30 p.m.
For eligibility appointments or questions please call the UTA Mobility Center at 801-287-2263.
UTA Recovery Task Force
UTA has assembled a Recovery Task Force to ensure a resilient recovery from the COVID-19 pandemic. This group has been tasked with developing a customer-centric service restoration plan that recognizes the risk levels and geographic variances in our service region.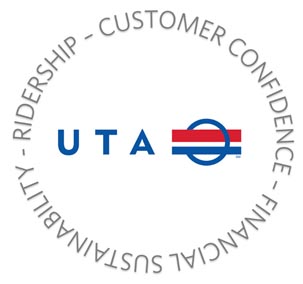 To tack our recovery efforts, we have developed a COVID-19 recovery storyboard to provide more detailed information on ridership, safety, service and planning and financial updates.
Honoring Our Dedicated Employees
We would like to recognize our operators and employees who continue to provide service for those who rely on UTA. We invite you to review this short message about how UTA and its dedicated employees remain committed to providing safe and reliable service to the people who are relying on us.

There have been many efforts to honor the essential front line employees who continue to serve their communities throughout the COVID-19 pandemic. We wanted to share a few videos that recognize and celebrate these essential workers.

Thank You to America's Public Transit Workers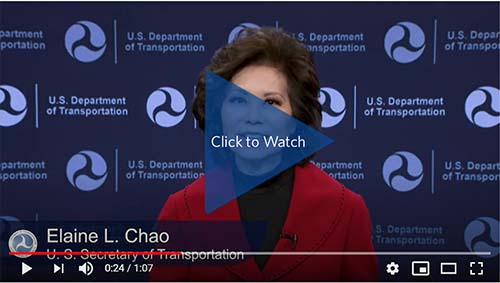 A Musical Thank You to Our Essential Workers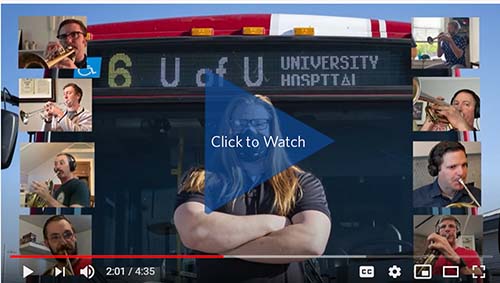 Follow UTA on Twitter and Facebook for updates about transit and COVID-19.
Resources
Utah Leads Together - Utah's Plan for a Health and Economic Recovery: https://coronavirus-download.utah.gov/Governor/Utah_Leads_Together_Version_4.0_061720.pdf

Utah Department of Health: https://health.utah.gov/coronavirus

Centers for Disease Control and Prevention: https://www.cdc.gov/coronavirus/2019-ncov/index.html

Intermountain Healthcare COVID-19 Updates: https://intermountainhealthcare.org/covid19-coronavirus/?utm_source=coronavirus&utm_medium=vanitydomain&utm_campaign=coronavirus20200302

University of Utah Health COVID-19 Updates: https://healthcare.utah.edu/coronavirus/

FEMA: Coronavirus Rumor Control: https://www.fema.gov/coronavirus-rumor-control

Community Lifelines: https://www.fema.gov/lifelines