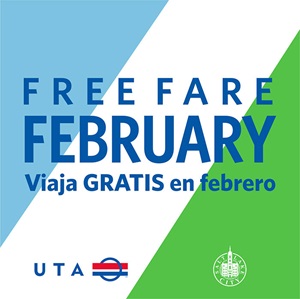 In December 2021, Salt Lake City Mayor Mendenhall approached UTA with the idea of offering free fare the entire month of February for transit riders using local bus, TRAX, ski bus, microtransit, FrontRunner, Park City commuter, and paratransit services. The dual goals of the free fare initiative were to reduce emissions during typically poor air quality season and honor the legacy of the 2002 Olympic Winter Games in Salt Lake City. UTA began working with Salt Lake City to turn the mayor's idea into a reality. On January 26th, 2022, the Board of Trustees passed a resolution that delegated authority to the Executive Director, to declare "Free Fare February."

UTA experienced significant increases in ridership across the system during Free Fare February. In addition to supporting transit ridership and celebrating the 20th anniversary of the Olympics, a survey of more than 5,000 people conducted during February indicated that the month had a positive impact on riders.

UTA has completed the Final Report on Free Fare February, including the final weekday and weekend ridership numbers for each of our services…bus, TRAX, FrontRunner, paratransit, UTA On Demand and more. You can also link to a dashboard of the Free Fare February ridership numbers on our Open Data Portal here https://data-rideuta.opendata.arcgis.com/. The Final Report also summarizes the results of the rider survey.

Thank you to Salt Lake City Mayor Erin Mendenhall and the numerous local governments, partner agencies and private businesses that supported Free Fare February. Free Fare February was a collaborative effort and could not have been accomplished without the contributions of so many partners. But most importantly, thanks to all the people who ventured out and rode UTA in February, bringing family and friends along, going to events and activities in the community, and sharing their Free Fare February adventures with all of us.

We hope you'll keep the spirit going and keep riding transit to work, school, entertainment, and sporting and community events. Thank you for making Free Fare February a success!