Sometimes UTA provides fertile ground for love to grow. Every day more than 150,000 people use UTA services. Those trips can lead to new friends, new love interests or it can make relationships possible by connecting geographically-distanced lovers. Leading up to Valentine's Day we'd like to share three heartwarming stories of love found via UTA.
When You See That Person
On a Wednesday in April 2018, I was waiting for the southbound train of 7:03 p.m. on the North Temple Station. I saw this cute girl talking to a friend and said to myself "I have to meet her" so I walked up to my friend and said hi hoping for him to introduce us, but he didn't, so I reached out and introduced myself and asked if I could sit with her in the train. We sat next to each other the whole ride down to Provo and when we got there, I asked her how she gets home, she said that she took the bus, so I offered to give her a ride to her apartment.

Since then, we started taking the train together. We later started dating and I proposed to her a couple of months after that. Later I finally married the cute girl from the North Temple Station on October 4th, 2019! Till this day we ride the FrontRunner together every day to work and school and every time we are at North Temple Station waiting for the train, we think of when we met and found each other's forever travel companion.

- Mosiah and Luana Gaona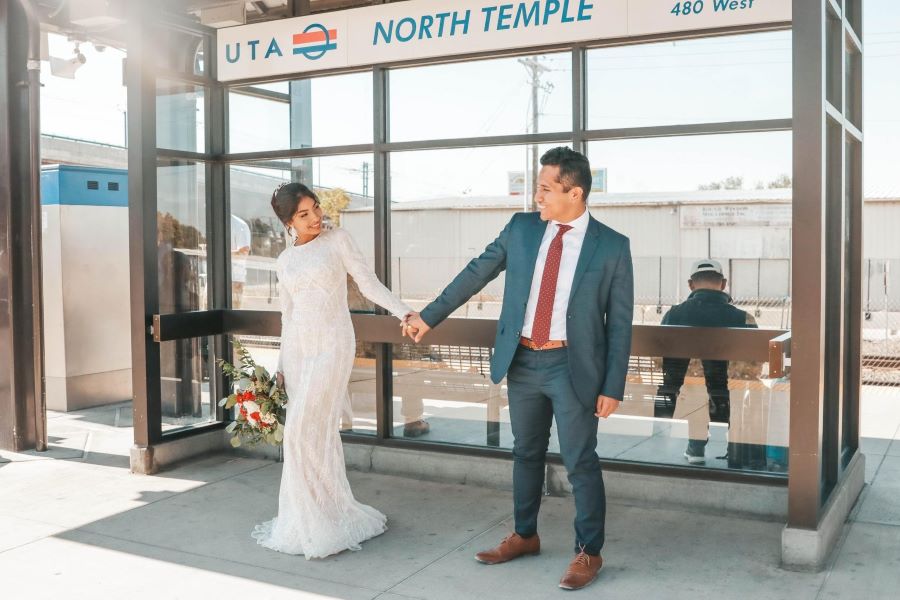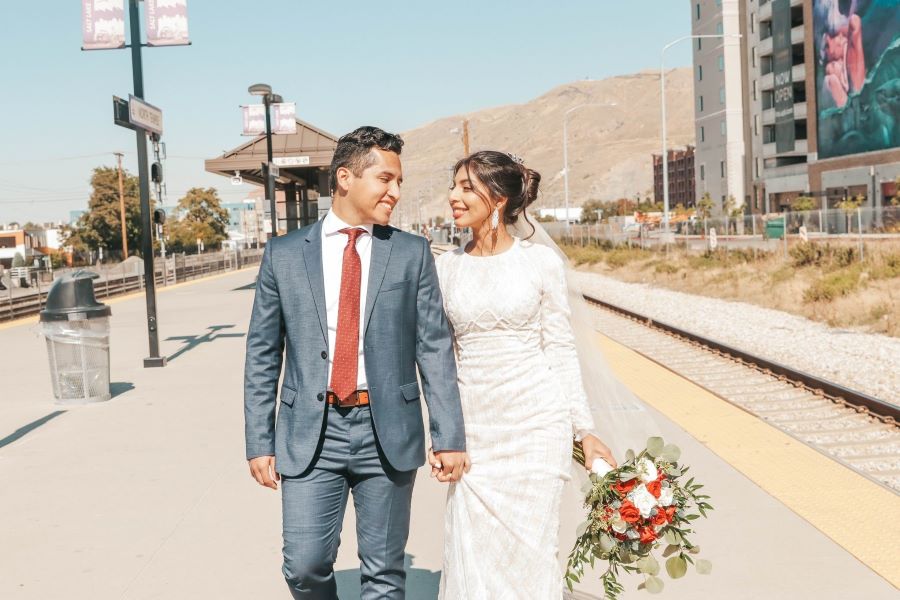 Making Connections Possible
While my husband and I were dating, I lived in Salt Lake City and he lived in Provo. Because he did not have a car, Grant relied on the FrontRunner to visit me in Salt Lake. After an enjoyable evening together, I would drive him to the Murray Central Station and we would say our goodbyes before he got on the train back to Provo.

One afternoon in August 2016, we drove to the train station as usual, and I walked with him to the platform. As we saw the train approaching, I began to say goodbye but Grant told me, "You know, we won't always have to say goodbye like this." At that moment, he turned me to face the train, where I saw a huge sign in the window that said "Rebecca, Will you marry me?" He then got down on one knee and quickly proposed. I said YES! He then told me to get on the train, where we went downtown to celebrate.

We have been happily married for three years, and now we have a beautiful daughter. We will always be grateful for the role UTA had in keeping our love strong across the miles.

- Rebecca and Grant Ludlam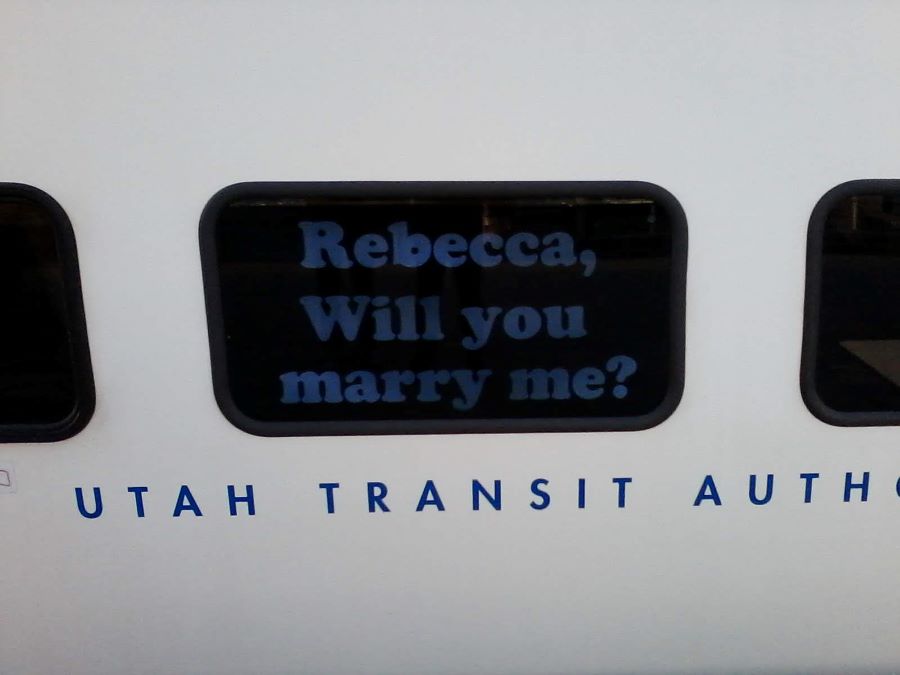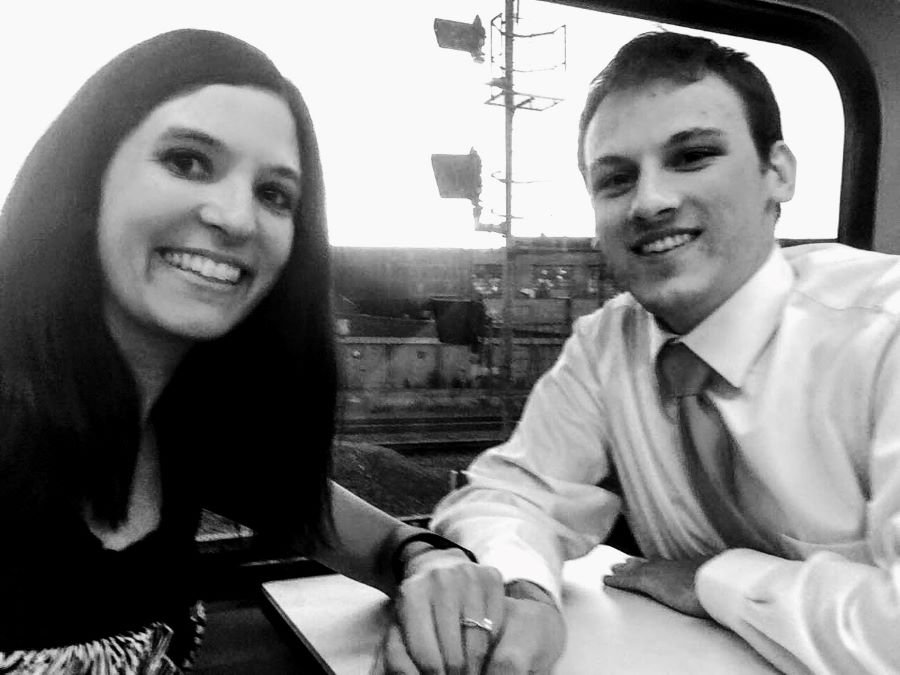 Finding a Career and a Bride
The first day I took the wheel of a bus, the future love of my life, Christine, coached me through the nerve-racking experience. Christine was my trainer and there was definitely a strong attraction since we first laid our eyes on each other. Still, we kept it professional as Christine corrected me from hitting curbs while navigating the CVTD bus system. We first became 'friends' without any romantic relationship, often hanging out, going to shows, and seeing each other at work with small doses of flirting on break at the Logan Transit Center.

One late night, after watching the romantic classic 'The Princess Bride,' I leaned over to Christine and gave her a little kiss…okay, it was more than just a little kiss. From there, our relationship got pretty serious. Still, we were a bit worried about the repercussions at work. Christine was technically my supervisor and we knew that this relationship was technically forbidden. We went on for months without anyone at work knowing of our relationship, only sneaking in a kiss when no one was watching.

After we decided to tie the knot, Christine approached her supervisor and told him of our engagement. This supervisor was so surprised, he actually choked on his drink when she brought the news to light. It turned out that we shouldn't have been so worried about any discipline from our 'forbidden' relationship, as we only needed to fill out a simple form acknowledging it. We have since been married for more than ten years with three growing kids and I have stayed in the transit industry in various roles since that time. Although my passion for transit goes beyond our relationship, I would be lying if I said that our love affair didn't put me on the right track.

- Levi Roberts, UTA Strategic Planner and his wife Christine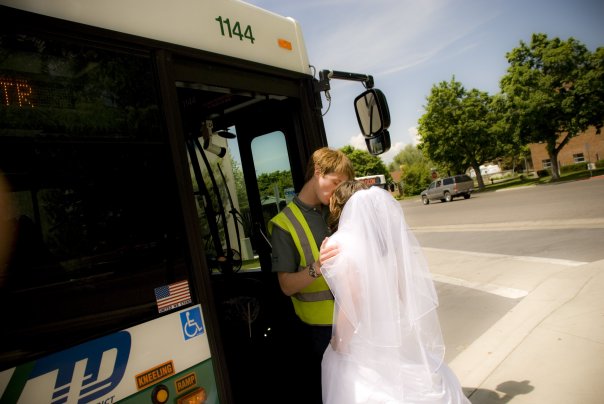 We encourage you to be open to the possibilities of meeting someone on UTA that makes your journey that much more fun. Maybe next year, you'll have a story to share with us!