Shop, Dine, Play: 25th Street
Ogden Express
(OGX)
will be the new Bus Rapid Transit line that runs to and from Ogden Central Station to The Junction, Washington Boulevard, 25th Street, Harrison Boulevard, Weber State University and McKay-Dee Hospital.
There are hundreds of businesses where you can pause to shop, dine or play throughout the 15-20 minute ride.
We are currently working on the second portion of the route — 25th Street. We wanted to highlight some of fabulous business along this part of the OGX route and though it may be a little more tricky to get to them, it's worth it.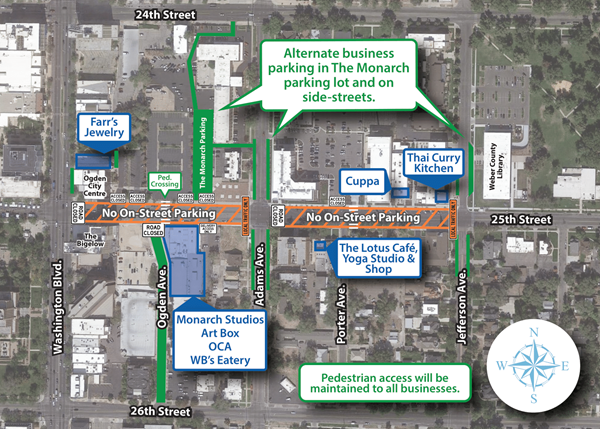 Shop: Art Box: Art, Gifts & Candle Making
Art Box is an interactive studio designed to inspire and ignite the creative gifts held within each one of us. In addition to a variety of art classes offered in different mediums throughout the year, we invite you to drop in anytime to make your own one-of-a-kind candle. We also invite you to come explore our unique gift shop where you will discover exceptional and uncommon goods, all within the historic walls of the beautiful Monarch building in downtown Ogden.
Cuppa is a vegan, organic and gluten-free cafe in the heart of Ogden. They offer a wide variety of breakfast, grab and go kombucha, smoothies, smoothie bowls, and bakery items. Their most popular items include the harvest bowl, buddha bowl, guacamole burger, breakfast bagel, street tacos, black rose lemonade and GF heart brownie. It is the place to gather, nourish and create.
Play: Monarch Studios: Artist & Creatives
Every week there is something new to experience at The Monarch! Specialty markets, ladies' nights, and Open Studio Night are created with you in mind to gather with friends and family, celebrate art, and be entertained while supporting independent artists, makers, and creators of Utah. Check back often to find unique and ever-changing events to add to your calendar so you don't miss out on some of the best art, music, and food we can find in Northern Utah.
Play: OCA | Ogden Contemporary Arts
OGDEN CONTEMPORARY ARTS inspires local and regional artists through active involvement with the international contemporary art community. OCA strives to be viewed as a credible and internationally respected art establishment; while empowering artists with the facilities, environment and experience to excel in their medium and enrich their lives.
Curry is a general term that can be simply described as sauce with flavors. Curries can be found in many different cuisines all over the world; it is the ingredients that define the curry. Many Thai curries are distinguished by coconut milk, fish sauce, and chilis. Curries are filling, simple, and sustaining. At Thai Curry Kitchen, we don't buy curry pastes, we make them ourselves! This allows us to leave out unnecessary preservatives and dyes like MSG and food coloring, catering to customers looking for vegan and vegetarian options. Whenever possible, we use authentic ingredients that are found in Thailand like galangal, ginger, turmeric, lemongrass, and kaffir lime leaves.
Shop, Dine & Play: The Lotus Café, Yoga Studio & Shop
Our Lotus Café offers a wide variety of natural foods, with a clean eating focus. Come relax and recharge while enjoying a freshly prepared drink, meal, raw chocolate or baked good from our display case. Vegan, vegetarian, Meat & gluten-free options. The Lotus Studio offers Yoga classes, private classes, sound baths, workshops, 200 hour Yoga TT, 300 Hour Advanced Yoga TT, MyCAA tuition and Yoga alliance. Our Lotus Shop brings a positive and mindful shopping experience. We offer a selection of healing gifts and all things to make you feel good on your journey.
Dine: WB's: Eatery, Coffee & Bar
We're casual in every way, but we take our love of food, drink, and friends seriously! Art on the walls, cocktails in the shaker, coffee in the press - WB's Eatery is your spot to kickback with friends, shop the market, and live the lifestyle. Now you can shop online and enjoy our signature products no matter where you are.
For more on Ogden Express see
rideuta.com/ogx
.