Lori Champneys, UTA FrontRunner Train Host, nominated Gustav (Goose) Krie for our April Rider of the Month. "Gustav is like a son to me. He always shares his life and fun stories. He's great company and very sweet. He's the perfect passenger."


Meet Gustav, aka Goose
Gustav was raised in South Africa with his parents and siblings until the age of five. His family moved from Africa to the United States to seek more opportunity. "I lived most of my life in Utah, so I really don't remember hardly anything about South Africa," says Gustav. Growing up he enjoyed playing rugby and football for Maple Mountain High School in Spanish Fork. After high school, he worked towards his bachelors degree in graphic and visual design at Provo College. "My first job out of college was with Screenplay in Vineyard and then eight o one prints in Provo. I am still working with them six years later," says Goose. When he is not working, he loves spending time with his five-year old son. Down the road he plans to start his own screen printing shop or become a barber.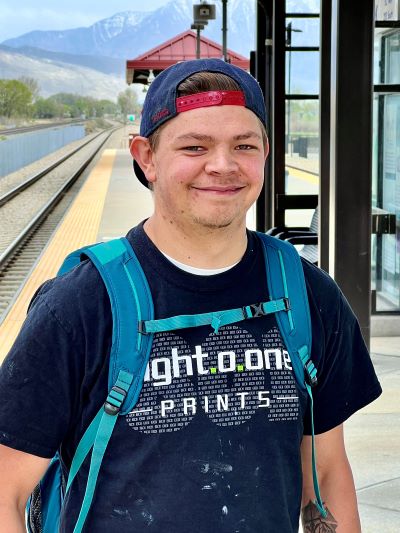 How long have you been riding?
Gustav has been riding to work every day since he was 18 years old. He mainly uses FrontRunner and TRAX to get to and from work or to visit his friends. He rides from American Fork to Provo Station every day.
Why do you ride?
"I ride UTA because I don't have the need for a car. UTA offers me transportation to wherever I need to go. FrontRunner takes me to Ogden or Provo, TRAX to downtown Salt Lake, and the bus takes me to my final destination."
Why should people ride UTA?
"People need to take that leap of faith to use UTA. It is the best option to get you where you need to go. You really don't need a car to get around Utah. UTA is affordable and get your to work, home or school in a reasonable time. Take that step forward in the right direction."
Learn More
To learn more about how to enjoy using UTA, visit How to Ride. To nominate someone for a future Rider of the Month award, please email us at getsocial@rideuta.com.