Salt Lake City is hosting the 72nd NBA All-Star Game next month and we're so excited to offer ten zero fare days, February 12th through 21st, in support of this event.

The official All-Star Game takes place Sunday, February 19th at 6 p.m. at Vivint Arena but there will be a week of activities NBA-related and more.

To welcome the 100,000+ people visiting Salt Lake City for the events, UTA will be providing additional service and offering two zero-fare promotions.
Event Service
February 14-21 (week of events): Route 2 will be temporarily adjusted to the 2A (running clockwise) and the 2B (running counter-clockwise) and will run in two 6-9-minute frequency loops between Salt Lake Central Station and Huntsman Center.
February 17-19: Route 2 will run this modified route until 2 a.m.
February 14-21: TRAX Green Line will run 24 hours a day between Airport Station and 600 South.
February 17-19 (weekend of the All-Star Game): TRAX Green Line — the entire route — will be running until 2:30 a.m.
February 17-19: TRAX Red and Blue Lines will run until 2 a.m.
February 17-19: FrontRunner will run until 2:30 a.m.
February 20 -21: FrontRunner will run every 30-60 minutes until 11 p.m.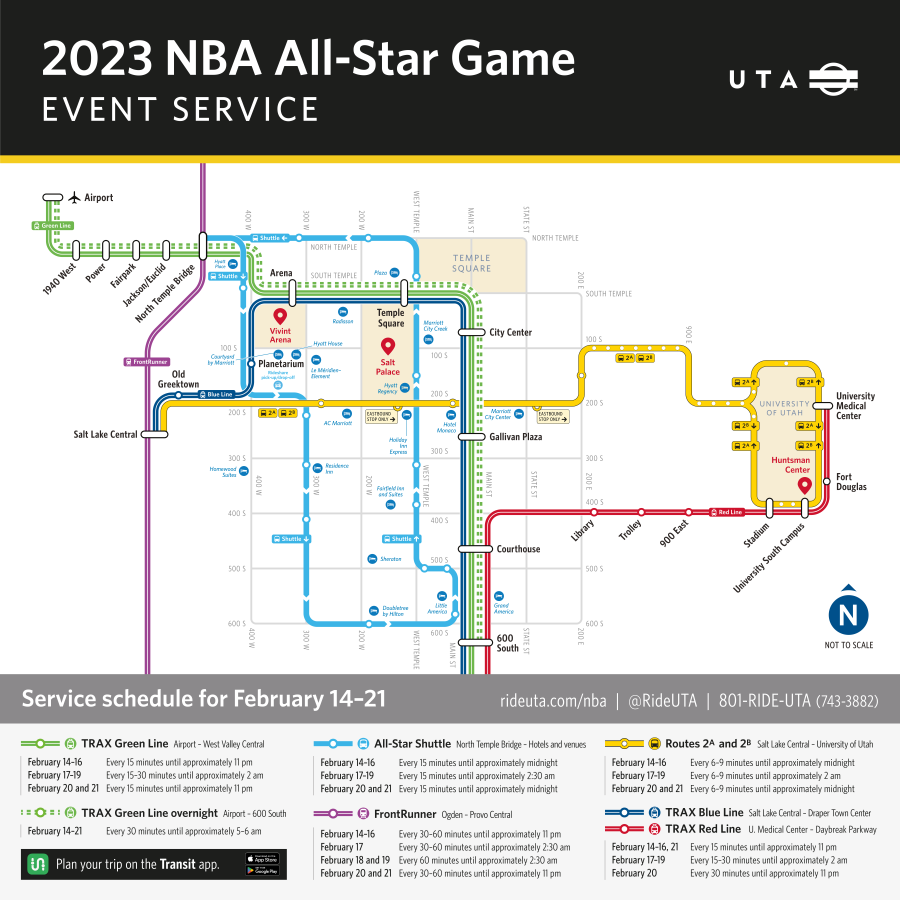 Promo 1: Zero Fare with Boarding Pass for All of February
On the day of travel, those with print or digital boarding passes can ride for free to and from Salt Lake City International Airport or Provo Municipal Airport. This ticket-as-fare promotion is valid for the entire month of February.
Promo 2: Zero Fare During NBA All-Star Week
To help everyone enjoy the NBA events and activities, UTA will be offering zero fare from February 12-21. This includes FrontRunner, TRAX, and all bus services including Ski Bus, paratransit, and UTA On-Demand.

Even if you're not into basketball there will be numerous open-to-the-public entertainment taking place downtown and even some on TRAX (more on that coming soon!). We encourage you to enjoy a very lively downtown Salt Lake City via UTA without the stress and worry of finding parking!

Make sure to check rideuta.com/nba for all our up-to-date information about service, fares, and events.