The Jordan River isn't just a waterway. The river offers a serene escape from the bustle of daily life, inviting you to immerse yourself in its natural beauty and picturesque surroundings. What makes the experience even more convenient is the extensive transit network to get you there! With numerous transit options at your fingertips, accessing the wonders of the Jordan River has never been easier. Whether you're looking to stroll along its shores, bike its scenic pathways, or simply bask in its tranquil atmosphere, UTA ensures seamless connectivity and hassle-free transportation. So hop on FrontRunner, a bus, or TRAX, and let the adventure unfold.

Join UTA, Jordan River Commission, and the Jordan River Foundation for the 2023 Get to the River Festival. This 30-day event will be held throughout September and will feature activities and celebrations to help restore and educate our community about the Jordan River. Find information about the events in the interactive map below as well as on the Get to the River website.
UTA Booths
Stop by the UTA booth at the following events for some free swag and to learn more about us! We love to get involved in our community, and fun events like these are some of our favorite ways to do that:
Interactive Trail Map


To view the map in full screen, click here.
Jordan River Spot It!
Get ready for an exciting adventure of "Spot It" along the scenic Jordan River Trail. Whether you're a nature enthusiast or just looking for some outdoor fun, this activity promises a delightful journey filled with hidden gems and picturesque views. Bring your keen eye and sense of adventure as you embark on this playful quest along the winding path of the Jordan River Trail.

Print out this page or pick it up at a UTA booth on September 10 or 23, and snap at least five photos to receive a prize. Happy spotting!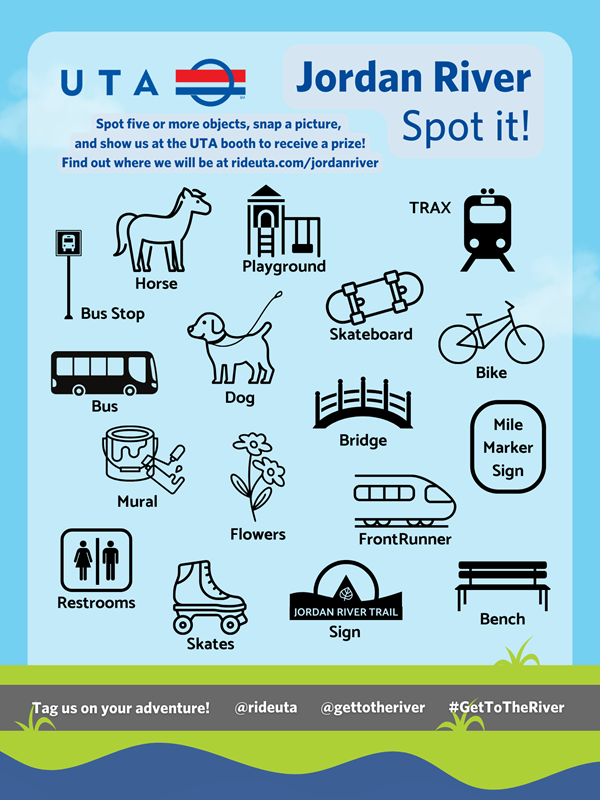 Download Spot It! PDF here
Maps & Schedules
You can find UTA system maps and schedules here. Don't forget to use the Transit app to plan your route and pay for your fare!