This football season, you can get to three stadiums on free transit. Keep reading to learn the ins and outs of enjoying your favorite local college football team via UTA.
Weber State University and OGX
With the welcoming of OGX, we can now connect you with ease to Weber State's Stewart Stadium. OGX — our newest BRT (Bus Rapid Transit) — runs every 15 minutes on Saturdays until 10:30 p.m. and every 10 minutes during weekdays. In addition to high frequency, OGX is free for its first three years, allowing folks to easily integrate this new mode into their daily commute and leisure adventures.

How to Get to the Game:
See the map below to find your nearest OGX station. Take OGX to Weber State Central Station, and then take about .5 mile walk through campus to arrive at Stewart Stadium.

If you heading from south of Ogden, hop on FrontRunner. Take it to the end of line, Ogden Central Station, and walk off the platform right to the OGX station. And that's it — after a short 20 minute ride you will arrive on the WSU campus.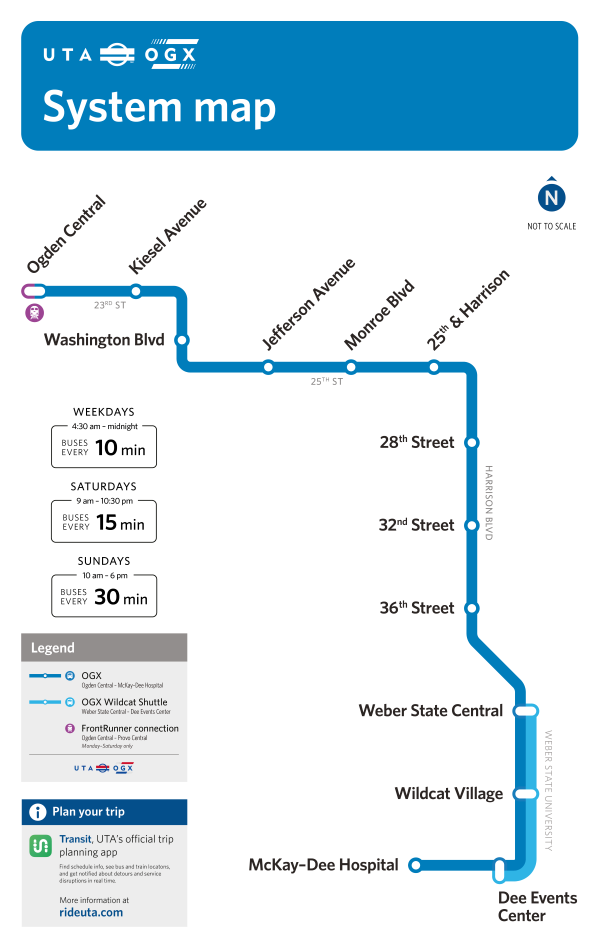 University of Utah and the TRAX Red Line (and Direct Bus!)
Getting fans to the U football games and other sporting events is a little different than WSU and BYU. For sporting events at the U campus, we have a Ticket As Fare agreement. That means your event ticket is your fare for the entire day of the event across all modes of transit except Ski Bus and Paratransit.

Get to the Game:
You've got options!

Connect to the TRAX Red Line directly at one of its 26 stations or via another TRAX line, bus, or S-Line and take it Stadium Station. All TRAX lines (Red, Green, and Blue) and S-Line run every 15 minutes Monday through Saturday (and every 30 minutes on Sunday).

If you're heading to the game via FrontRunner, we have direct bus shuttles running between Salt Lake Central Station and the Rice-Eccles Stadium roughly an hour before and an hour after the game.

We also provide special trains from Draper Town Center Station to Stadium Station. These special trains run from 90 to 60 minutes prior to kickoff, and they stop at all the stations but do not require riders to switch to a Red Line train.

If you're coming from the center of Salt Lake City, we also have back-up direct buses running between Courthouse Station and Rice-Eccles Stadium.

The direct buses to Salt Lake Central Station and to Courthouse Station are also available post game. See the map below!

Regardless of when the game ends, UTA will provide service after the game. Also, we'll have UTA Ambassadors (the ones in the white vests) at these locations to answer any questions you might have.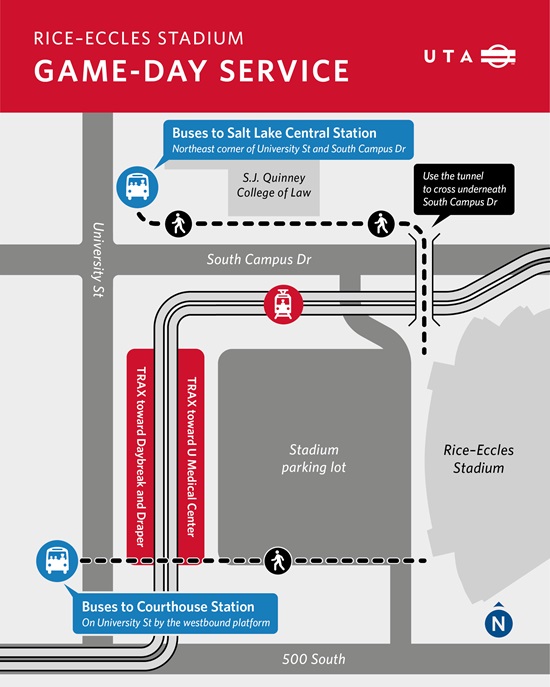 Brigham Young University and UVX
UVX (Utah Valley Express) runs every 6–15 minutes on weekdays and every 15 minutes on Saturdays between Provo Central Station, through the BYU campus, to Orem Central Station. This BRT is also free!

How to Get to the Game:
Hop on UVX from one our FrontRunner Stations (Provo Central or Orem Central) or at one of its 18 stations and get off at BYU Stadium Station and you right there at LaVell Edwards Stadium.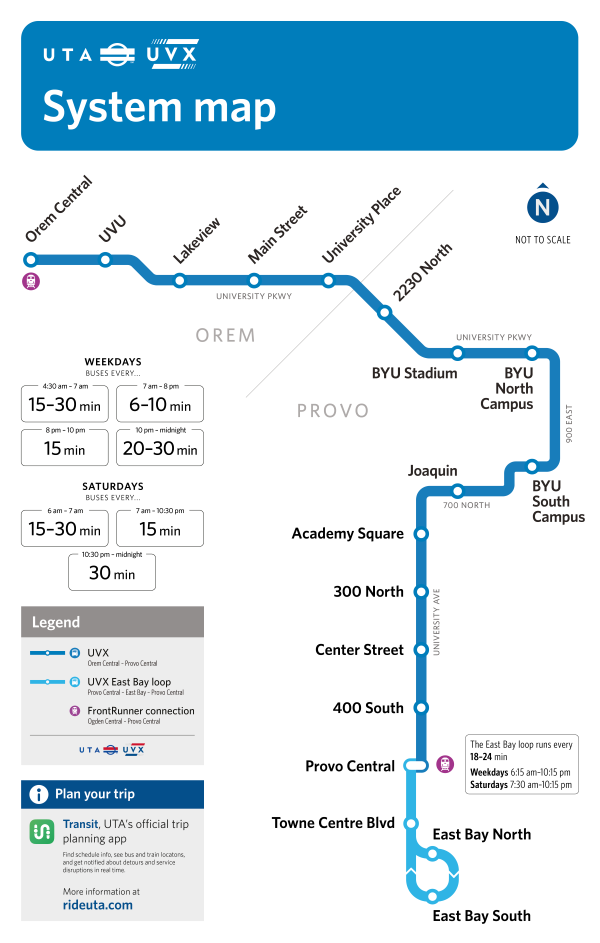 Fares and Trip Planning All in One Place
If you need to purchase a fare or would like to receive push notification guidance for your trip, make sure use the Transit app. You can purchase fares inside the app and you can choose the "Go" option to receive GPS-prompted reminders of what's next on your trip. So easy!

And of course, if you'd still like a little more help, give our Customer Service team a call at 801-743-3882 or reach out to them on Twitter at @rideUTA.