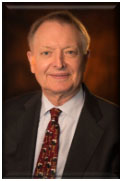 Board Chair
Appointed by:
Municipalities within Salt Lake County and the municipalities of Grantsville and Tooele in Tooele County.
Term Ending
December, 2017
Professional
Attorney; Arbitrator; American Arbitration Association.
Civic
Clay County Economic Development Commission, Executive Committee, Chair Transportation Committee; Shoal Creek Infrastructure Task Force; numerous multijurisdictional and bi-state task forces and study groups on transportation, planning and infrastructure projects; numerous civic leadership development programs; numerous bar related activities including long service on Missouri Supreme Court Civil Rules Committee and presentations at national institutes on employment related issue.
Education
BSBA (economics) and JD from University of Missouri-Columbia