New Reduced Fare Pilot Program
The Reduced Fare Pilot Program offers an improved online application for Seniors, Youth, Persons with Disabilities and now includes Low Income Individuals. The application is completely online to make it easier to apply. All applicants must fill out the application and qualify to take advantage of the pass. All qualified applicants will receive a 50% discount off regular fare.
Who Qualifies?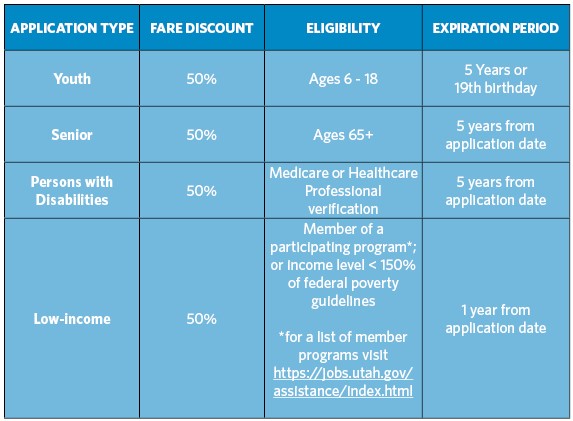 For more detailed information on who qualifies click here.

Once you submit a complete application and it is approved, we'll issue you a Reduce Fare FAREPAY card with your photo that allows you to ride TRAX, FrontRunner, S-Line, Bus and UTA on Demand by Via.
How to Apply
Apply Online: Click Here
Verify identification and eligibility Click Here for More Info
Receive your new Reduced Fare Card