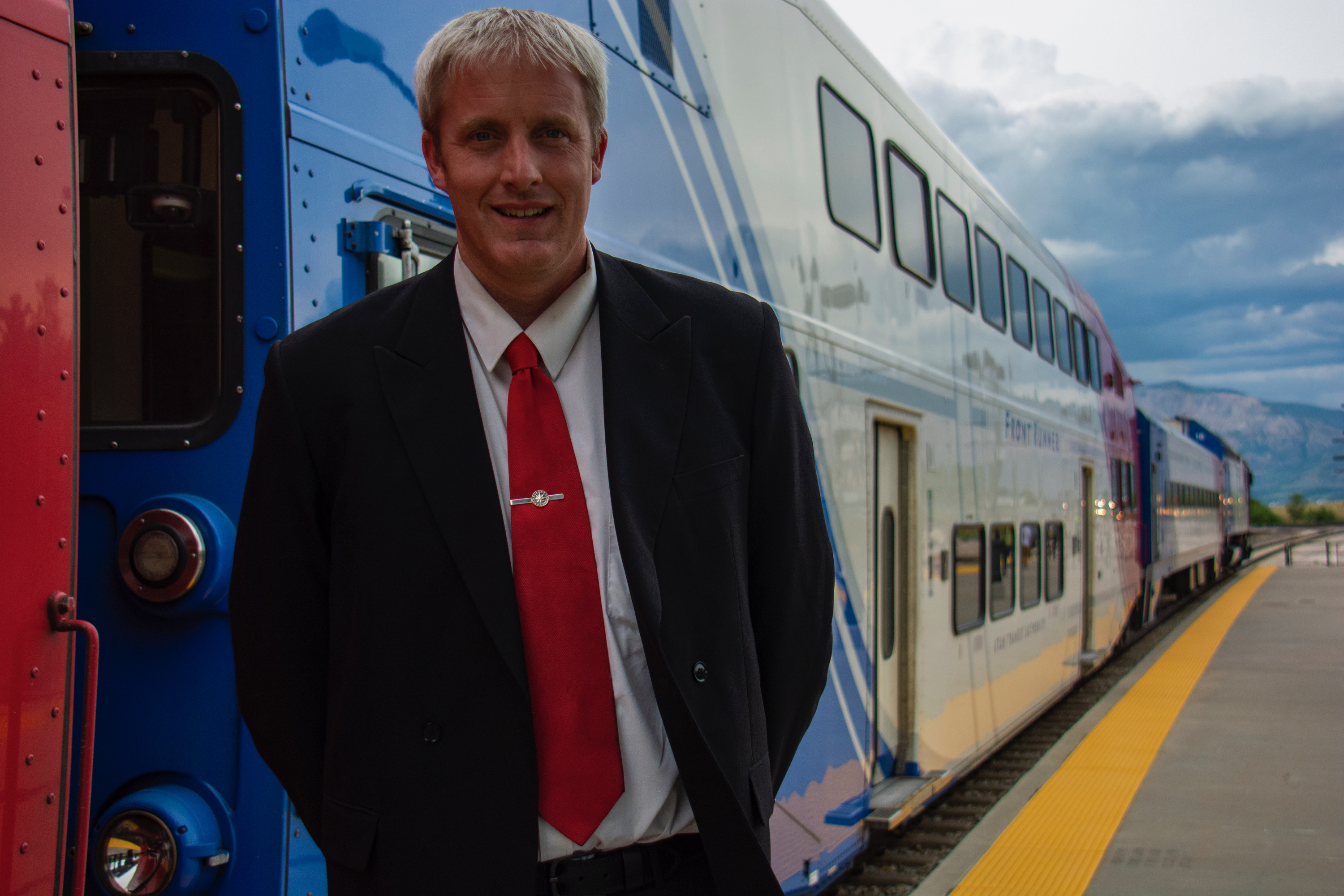 FrontRunner Host, Joan Effoing, nominated Eric Wilkinson for "Rider of the Month" because he is so polite to her and the other riders. "Whenever an elderly or disabled rider is on the train, he always offers his seat to those riders even if it means he has to stand the entire trip from Roy to Salt Lake. He always helps older women across the platforms and greets everyone with a smile."

Eric grew up in Salt Lake City with his five brothers and sisters. He began his education at Willow Canyon Elementary in Sandy, Utah and then Ishikawa Elementary in Mesa, Arizona. His family moved back to Utah, where he completed high school at Brighton. He then moved to Hawaii to attend Brigham Young University before going on a mission to Central America. After returning, he completed his teaching certificate at Utah Valley State College and University of Utah, as well as an MBA at Weber State University. Mr. Wilkinson currently works at the Church of Jesus Christ of Latter Day Saints in supervisory roles.

How long have you been riding?

I have been riding UTA for the past 10 years, since the advent of FrontRunner. I would have ridden even longer, but it would have taken 3-4 bus transfers in order to get to work. That just didn't fit into my home and work schedule.

How do you usually use UTA?

I board FrontRunner at Roy Station and ride the train to North Temple. Then I jump on the TRAX Green Line to ride to the Church Office Building for work. I ride to and from work 5 days a week, all year long.

Why do you ride?

Every once in a while I have to drive to work, and I am miserable every time I have to deal with traffic. UTA is the best way to get to work. It gets me to and from home safely. I love meeting new people and sharing their stories. Also, the Church of Jesus Christ of Latter Day Saints pays for my transit pass. I can ride FrontRunner, TRAX or bus 365 days a year, free of charge. That saves me hundreds of dollars in gas, maintenance and miles for my car. You should ask your employer if they have an ECO pass.

What would you say to someone that has never used transit before?

Ride today! You will find you are so much calmer and happier not having to deal with traffic or construction. I have all the time in the world to read a book, answer and email or get my work done.

Any tips or suggestions for other riders?

Education is extremely important to me, and I encourage everyone to take the plunge to get a degree. UTA is amazing because you can ride FrontRunner, TRAX or bus to nine different colleges along the Wasatch Front. It is also an easy way to get to home, work or your favorite attraction. I was nervous to ride the first time, you just have to make that leap of faith and jump on that train or bus. Once you ride you will be hooked for the rest of your life.