From the people who brought you the autonomous vehicle, UTA's Innovative Mobility team, now debuts UTA on Demand by Via. A year in the works, we're excited for this pilot program to hit the ground, providing more transit service and improving connections to TRAX and FrontRunner.


The Basics
UTA On Demand is a rideshare service operated by Via. If your needed trip starts and ends in the specified geographic area, just download the Via app and book a ride, or call 385-217-8191 if you don't have a smartphone. The fare is only $1.00 through December 31, 2019. After that, fares and transfers are the same as the rest of UTA's system and the Via vehicles are wheelchair accessible.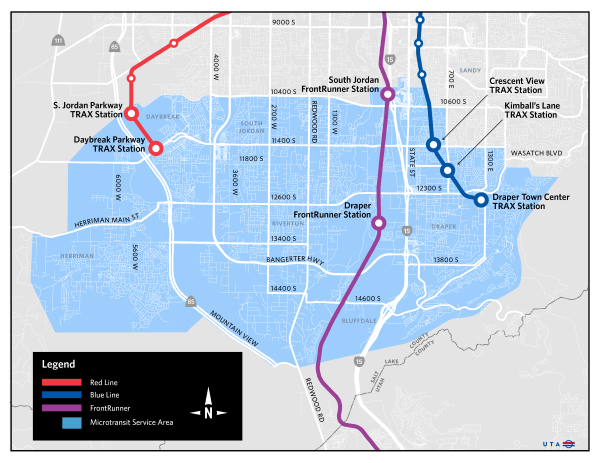 Why rideshare?
The pilot is focused on southern Salt Lake County where it's challenging for UTA to provide regular, frequent service. With seven rail stations in the service area, this type of on demand, shared ride service provides first and last-mile connections to UTA's other services. It's also a great solution for short, irregular trips like visits to the grocery store, doctors appointments and other destinations.
"We are very excited about UTA On Demand and our partnership with Via. By using new technologies, UTA and Via are able to improve mobility in southern Salt Lake County. This pilot will do many things: increase coverage, provide more flexible trip planning, and in general, provide a more convenient way to connect to transit and other popular places." - Jaron Robertson, UTA Innovative Mobility Acting Director
"As a Draper resident, I've seen this community go through rapid growth. It's time for new solutions that allow people to get around affordably and with ease. We really think UTA On Demand by Via will be a good fit for southern Salt Lake County." - Shaina Quinn, UTA Innovative Mobility Researcher


Looking Ahead
The Innovative Mobility team's job is to look ahead for ways to use new and emerging technologies to increase mobility, i.e., how best can UTA move people. This pilot project will run through November 2020. We hope you'll incorporate it into your transit experience and let us know what you think. We'll be collecting your feedback via a online survey and through contacting UTA Customer Service.
To motivate you a bit more, we're offering two promotions. You can get your first two rides free using the code RIDEVIA in the Via app. After that, we're offering all rides for just $1.00 through December 31, 2019!
If the pilot is successful, it could become part of UTA's regular, ongoing transit services and possibly expand into other communities along the Wasatch Front.

In short, UTA on Demand by Via is a powerful first and last mile solution that will increase transit use by creating an easy to use connecting service that works for everyone. Give it try today. Download Via.

Get more info at www.rideuta.com/via.