"These days, we are exceptionally grateful for riders who remain considerate and thoughtful towards other riders. This young man was sitting at a table when two ladies entered his rail car looking for a seat to use their laptops. When they couldn't find a seat, this nice guy stood up and offered them his seat. They were astonished and thankful for this offer," stated FrontRunner Engineer, Cory Mohl. "I nominated Shibu for December Rider of the Month because I was impressed by his chivalry and kindness."

Shibu Stephen is originally from New Delhi, India. "I decided to go to college in the United States because it is the land of opportunity, and I can learn great things at Ensign College," states Shibu. He has been in the U.S. for two months and absolutely loves his Accounting and Finance faculty. He is still running one of his companies in India, and works part-time in the sales and marketing department at Ensign College.


1 – How long have you been riding?
Shibu doesn't have a driver's license, so he uses his free UTA Student Ed Pass to go everywhere. "I have only been riding UTA for two months, but I absolutely love FrontRunner because I get to meet new people and visit my friends in Sandy and Provo," says Shibu. "It's funny; I never used the Metro Train or bus in India because I had my own car. When I return home, I plan to use public transportation more."


2 – Any tips or suggestions for riders?
"Everyone should ride public transportation because it saves you money, saves the environment, gets you to your destination on time, and has internet to do your work or homework," says Shibu. "People driving in a car don't get to sit, relax, and read a book. Once you start riding, you will never drive again."
If you see Shibu at North Temple Station, say hello and maybe make a new transit friend.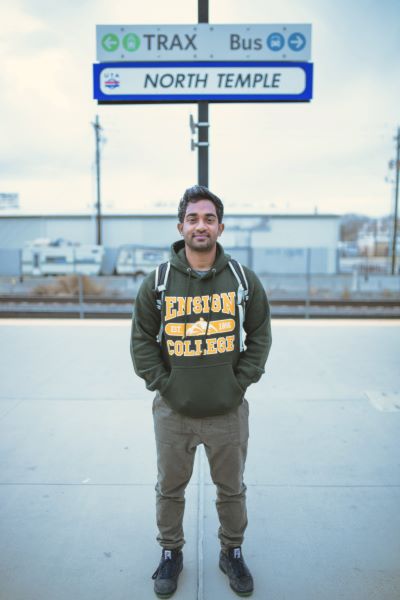 Learn More
Visit How to Ride.
To nominate someone for a future Rider of the Month award, please message UTA on social @RideUTA or email rideuta@rideuta.com.


About the Author
James Larson is a PR Strategist for Utah Transit Authority. He has helped 200 companies grow their business by 200% over the past 20 years. He cultivated his sales and marketing skills at WSU, ad agencies, Davis Tech College and a medical manufacturer. He has a passion for telling good stories and hiking the beautiful mountains of Utah.