Blake Brown, Commuter Rail Operations Supervisor, nominated Kayla Bradley for our June Rider of the Month. "Kayla is a UVU student who rides FrontRunner from Provo to Woods Cross every day to help out at a business her father works for. Kayla is always happy and kind, and laughs at all my dad jokes. She always tells me how much she loves to travel, hike and hang out with her family."

Kayla Bradley was born and raised in Taylorsville, Utah. Kayla did her mission at the Laie Hawaii Temple Visitors Center. "My favorite things on my mission was the food and the people. I learned to love curry dishes, as well as Spam and rice," says Kayla. "Plus, I picked up some really cool Hawaiian catch phrases at the visitor center."

Kayla returned from her mission in May of 2020 and is currently pursuing her degree in digital marketing at Utah Valley University. "My hope is to work in Utah or possibly the West Coast after graduating with a bachelor's degree. I don't quite know, but luckily I have time to think about that later down the road."
How long have you been riding?
Kayla has been riding UTA FrontRunner from Provo to Woods Cross four days a week for the past ten months.
Why do you ride?
"I love riding the train," says Kayla. "I get to watch videos, listen to podcasts or music, talk to the train hosts, read a good book or do my homework." Kayla also rides the train because she has to share her car with her sister and riding the train saves her a ton in gas. It is also extremely convenient because her apartment is right next to the Provo FrontRunner Station and her work is right next to the Woods Cross Station.
Any tips or suggestions for riders?
Kayla says that more people should ride UTA. "UTA is very easy to use and accessible to most places. I love the fact that I have my own little sanctuary on the train to do what I want to do. It's very peaceful."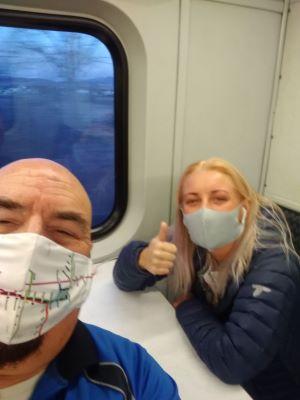 Learn More
To learn more about how you can ride visit our How to Ride page. To nominate someone for a future Rider of the Month award, please message us on Facebook or Twitter or email us at getsocial@rideuta.com.
About the Author
James Larson is a PR Strategist for Utah Transit Authority. He has helped 200 companies grow their business by 200% over the past 20 years. He cultivated his sales and marketing skills at WSU, ad agencies, Davis Tech College and a medical manufacturer. He has a passion for telling good stories and hiking the beautiful mountains of Utah.