Carolyn Anderson, Assistant Manager of Rail Operations, nominated Ben Harry for July Rider of the Month. "It is so enjoyable to get positive feedback from our customers," says Carolyn. Ben travels on Frontrunner every day, and here is what he had to say." Each morning I am cheerfully greeted by the train host, Mr. Blair Butler. Every morning he is friendly and welcoming. Blair sets a positive and friendly tone for my entire day. He really goes above and beyond expectations by removing snow from entrances, keeping the train safe and customers comfortable. Thank you for hiring Mr. Butler and please make sure he stays with UTA!"

Ben was born and raised in Salt Lake City. He remembers riding the bus as early as 1987 when he went to Bennion Elementary School because there was no school district bus.

After graduating from East High, he decided to serve a mission for the Church of Jesus Christ of Latter-day Saints in Berlin, Germany. "I remember growing up riding public transit, but I was blown away with how amazing Germany's transit truly was. They had elevated trains, subways, street cars and buses running throughout the city. It was amazing the variety of modes they had for moving people around, and there was no section of the city that wasn't within walking distance of the transportation web," said Ben.

Following his mission, he pursued his love for TV and movies at Brigham Young University, studying cinema history for his undergraduate degree. There he met Jennifer, the love of his life. After BYU, Ben pursued further schooling at the University of Minnesota in the Twin Cities, and then at UCLA for a Film Preservation Master's Degree. "The whole time I was going to school I rode the bus every day."

"It is strange riding UTA all these years, the buses go to the same spots I remember from childhood, but the surroundings have changed so much. I remember riding the bus, and walking past the ZCMI Center and Temple Grounds to go to West High. Today, that whole downtown area has changed. But I was able to ride the bus without even looking at a schedule. I will always ride UTA. It is one steady thing in my life that never changes."

When Ben is not working or riding the bus, he loves to spend time with his wife and six kids watching movies, hiking, and camping.


How long have you been riding?
"I started riding the bus when I went to school at Bennion Elementary in 1987 because there were no school district buses," says Ben. "I continued riding UTA throughout my schooling at West and East High School and Brigham Young University." Ben even used public transit during his LDS mission in Berlin Germany. After graduating from college, Ben continued to ride public buses at both his grad schools in the Twin Cities, Minnesota and Los Angeles, California. After returning to Utah, he currently uses FrontRunner to travel from Draper to Provo to go to his job at BYU. "A lot has changed over the years, but there is one thing that stands the test of time and that is UTA."

Why do you ride?
"It allows me to turn off my brain for 40 minutes of my life. It helps me decompress before I start my job or come home to my family. I love that if I'm tired I can close my eyes and take a nap during my commute, even just for a minute. You could never do that while you're driving. Plus, they have Wi-Fi so you can take care of emails and get some work done while you're riding."


Any tips or suggestions for riders?
"Everyone should ride UTA. It is safe and convenient, and I have never been in an accident on a bus or train. Plus, I am so glad I never had to drive in the Lehi construction nightmare for the past three years. You saw how blue the skies and green the grass was during COVID when we didn't drive. We could have that same beauty everyday if we stopped driving and rode UTA."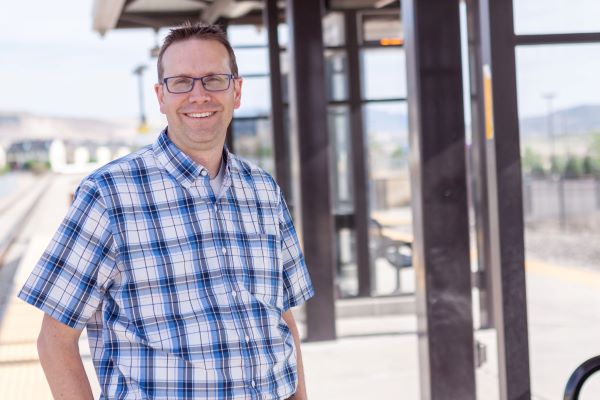 Learn More
To learn more about how you can ride, visit our How to Ride page. To nominate someone for a future Rider of the Month award, please message us on Facebook or Twitter or email us at getsocial@rideuta.com.


About the Author
James Larson is a PR Strategist for Utah Transit Authority. He has helped 200 companies grow their business by 200% over the past 20 years. He cultivated his sales and marketing skills at WSU, ad agencies, Davis Tech College and a medical manufacturer. He has a passion for telling good stories and hiking the beautiful mountains of Utah.