Tatum Steed, FrontRunner Train Host, states "I found a cute "young" man that I would like to nominate for August FrontRunner Rider of the Month. Jack Hughes just celebrated his 93rd birthday in August. I meet him as he was riding Frontrunner from his Lindon assisted living home to his daughter's Bountiful house. I really enjoyed hearing his amazing story. The funniest thing he said was he was allergic to everything but chocolate and girls!"


Meet Jack
Jack Hughes is from the Greatest Generation. Like others born in the late 1920's and early 1930's his childhood was shaped by the depression and served in World War II, Korean War and Vietnam.

After the Korean War, Jack received a Navy Air Medal for being in ten war areas. "I grabbed my medals and rushed on the first flight out of there to propose to my future wife, Marilyn. We moved to the Hawaii Travis Air Force Base for to run a communications office for the Vietnam War. I was then enlisted as top-secret cryptographer for a few years to uncover Russian Cyrillic code during the Cold War so that we could identify submarines using radio signals."

After serving his country, Jack pursued a computer and laser technology career at IBM. He retired at the age of 55 and began developing automated factories and programmable controls for various companies in Los Angeles. "I finally decided to really retire and go on three missions to the Philippines, Moscow and Nauvoo. After my missions, I sold my house in California and moved to Utah to work in the Provo Temple. Soon afterwards, Marilyn was diagnosed with Alzheimer's, so we moved back to California to nurse her before she passed away. I really miss that woman with all my heart."

At the age of 93, Jack has perfect eyesight and wits. He just moves a little slower. Jack resides at Spring Gardens Senior Living in Lindon, Utah, where he travels on FrontRunner every weekend to his daughter's Bountiful house. In his free time, he loves working on his French genealogy.


How long have you been riding?
"I have ridden UTA quite a bit over the past few years from 2007 to 2021. I go to my grandson's baseball games at Woods Cross High School. I also use UTA to go to LDS church meetings, and I went on Amtrak trip around the country for three weeks. I love trains, buses and public transportation. UTA is a smooth ride and I look forward to trips."


Why do you ride?
Jack loves using trains and buses because he doesn't have to drive.


Any tips or suggestions for riders?
"Enjoy the ride. Conductors are very good and watch out for riders. They really check up on us. I have been handicapped for a very long time and the train is easier to sit in than a car. Plus, it's quieter."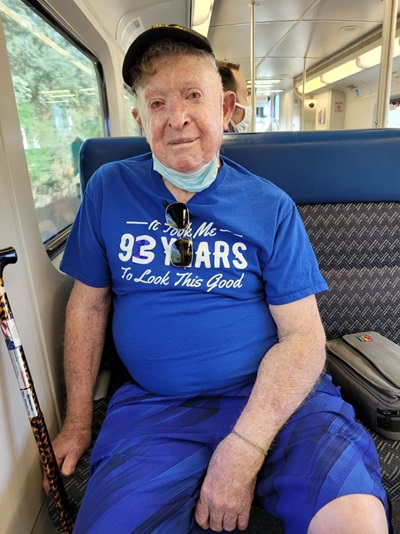 Learn More
To learn more about how you can ride, visit our How to Ride page. To nominate someone for a future Rider of the Month award, please message us on Facebook or Twitter or email us at getsocial@rideuta.com.


About the Author
James Larson is a PR Strategist for Utah Transit Authority. He has helped 200 companies grow their business by 200% over the past 20 years. He cultivated his sales and marketing skills at WSU, ad agencies, Davis Tech College and a medical manufacturer. He has a passion for telling good stories and hiking the beautiful mountains of Utah.