Blair Butler, UTA Train Host, nominated Haeli Barlow for our January Rider of the Month.

"Haeli rides the train every day. She always sits in the last train car. One day there was a very distraught girl who was heading in the wrong direction. Haeli helped calm her down till I came back and helped her transfer to the next southbound train."

Haeli grew up in Ogden with her three siblings, mom and dad. Throughout her youth, she enjoyed running cross country track and helping the elderly. After graduating from Weber High School, she attended Brigham Young University before going on her mission to the State of Washington. "I met my husband on my mission. It's crazy to think that we both lived in Utah, but would have never met if we didn't serve our missions in the same area," says Haeli. "I recently graduated from Weber State University in Health Administration, and I'm working on my masters degree in Hospital Administration." She is working at Timpanogas Regional and Mountain View Hospital in marketing and communications. "I plan to become a Hospital Administrator when she graduates in a year-and-a-half."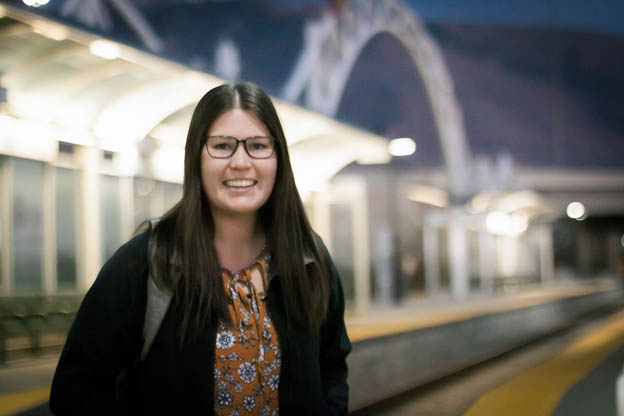 How long have you been riding?
Haeli has been riding UTA since 2016. "I rode FrontRunner from BYU to Ogden, Murray to Provo, South Jordan to Ogden, and now Draper to the Farmington WSU campus. I also rode UVX from BYU to FrontRunner." She has always had a student Ed pass that allows her to ride UTA for free.
Why do you ride?
"I love riding the train. It allows me to get my work or homework done while I am commuting from home, school and work. I feel safer riding the train than driving my car. I love the train hosts, Chuck and Walt. I consider them my good friends and we enjoy talking about our day."
Any rider tips?
Haeli recommends that every student should ride UTA because it is free, saves money on gas, allows you to do homework while your commuting, and lets you meet new people.
Learn More
To learn more about how to enjoy using UTA, visit How to Ride. To nominate someone for a future Rider of the Month award, please email us at getsocial@rideuta.com.