Alex Churchwood, UTA Rider, nominated Gretchen Devine for our August Rider of the Month. "Gretchen sold her car some number of years ago and is the office evangelist for public transportation. She takes it everywhere - to work, social events, etc. She loves helping people figure out what routes they can ride to reduce their car trips. Gretchen has said riding UTA helps her have time to read and relax without the stress of driving," says Alex.

Gretchen was born in the United Kingdom. At the age of eight, her family moved to Utah. "I remember loving to read, acting in community theater and singing in choirs as a child," says Gretchen. She continued her love for theater and choir, as well as played tennis and lacrosse at Waterford High School. Gretchen started college at BYU before serving an LDS Mission in South America. Upon return, she completed her BYU degree in Spanish Studies. Gretchen worked for AmeriCorps to help improve her community, before moving to Salt Lake City to work as a writer at O.C. Tanner. "I have had the pleasure of using my skills in grant-writing to help various non-profit groups in the community. When I am not writing, I love to sing, act in local theaters and hike," says Gretchen.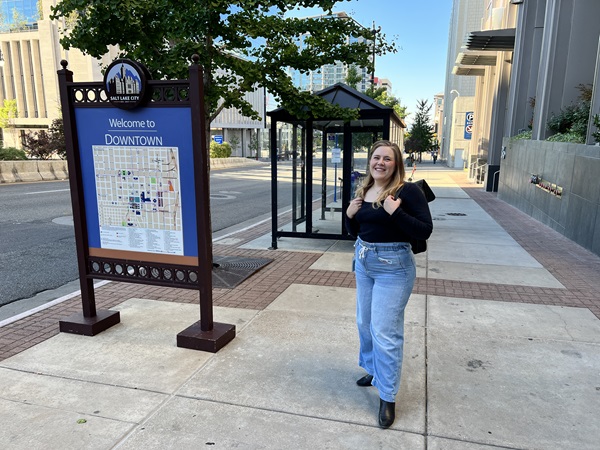 How long have you been riding?

"I started to ride public transportation every day while living in Peru and Bolivia. That passion for public transportation continued while I was going to school at BYU. I sold my car eight years ago and mostly use UTA to get around town."

Why do you ride?

"I live in the Salt Lake Avenues so it makes it really easy to ride the Route 200 to work, home or out on the town. I like riding the bus so much better than driving a car. I can work on my phone, read, text friends or daydream. You can never do that in a car. Plus, I don't have to worry about car payments, maintenance or parking fees. Riding UTA allows you to really get to know your community."

Do you have any rider tips?

"I am always nervous trying new things, so it helps to have friends to ride with. I plan my trips on Google Maps to create a bus schedule. All you need to do is try it once and you will get addicted to ditching your car."

Learn More

To learn more about how to enjoy using UTA, visit How to Ride. To nominate someone for a future Rider of the Month award, please email us at getsocial@rideuta.com.