On December 29, UTA bus operator Dale Brady achieved an extraordinary milestone: four million accident-free miles behind the wheel. Today, the UTA Board of Trustees expressed their appreciation for his service and noteworthy driving record.
Brady may be the only bus driver ever to reach this mark, but he takes it in stride. "I don't like to toot my own horn so much – it's just driving," he said. "I chose a good company to work for, I've driven for a long time, and it's provided the essentials for my family."

More important to Brady are his fellow UTA bus operators, many of whom have also driven millions of miles and in his view are equally worthy of recognition. One of those is Brady's friend of 46 years, UTA bus operator Art LeFevre. "Art was closer than I was, he would have gotten there first if his health had not declined." When Art passed away in July 2022, Brady drove extra miles so they could receive their 4-million-mile safety award together.

"We're extremely proud as an organization to have one of our team members achieve this impressive milestone, four million miles without an accident, which is possibly unmatched nationally," said Carlton Christensen, Chair of the UTA Board of Trustees. "This reflects the quality of all our operators and their commitment to the safety of our riders and the public we serve."

"It was a privilege for me to share the moment with Dale, along with his family, and UTA's family," said Jay Fox, UTA Executive Director. "Dale's 46-plus years happened one day and one trip at a time. He is a model for how UTA impacts the lives of our riders and our community as we move them to key destinations and opportunities every day."

Brady joined the Utah Transit Authority in April 1976. His tenure as a bus operator has spanned almost all UTA's 52-year history.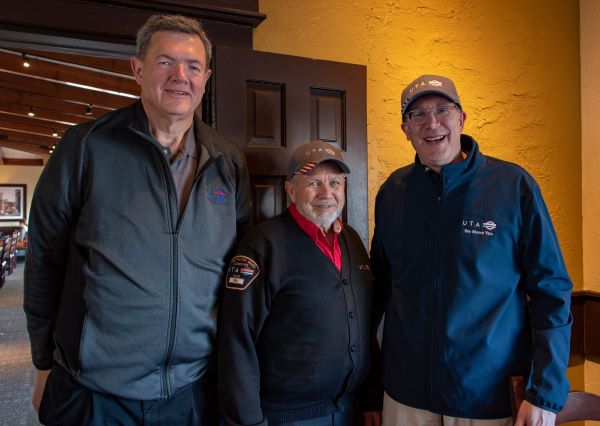 Brady is pictured above with UTA Board of Trustees Chair Carlton Christensen (left) and UTA Executive Director Jay Fox (right).