Meet Jaxton and Liam! At the ages of two and five, these brothers are avid UTA riders. Kendra, their mother accompanies them every morning from Spanish Fork to Lehi. Kendra works in Lehi while the boys attend school there.

Kendra has five children all of whom ride UTA. However, she commutes every morning on FrontRunner with Jaxton and Liam.

Jaxton and Liam enjoy riding FrontRunner because they can use the time to draw and play. "I also take the time to read to Jaxton and Liam. This is the quality time I wouldn't have had with them while driving. The boys love riding so much they even watch FrontRunner on Youtube!" Kendra explained.
How long have you been riding?
"We've been riding since February 2022!"
Why do you ride?
"We ride for a few reasons. It's a chance for quality time as a family! Between work and school, this time is extremely valuable. There is also a big entertainment factor for Jaxton and Liam. Riding FrontRunner is safer than potentially being distracted in the car. Taking public transit is better for the environment and, overall, it's a good life skill I want to instill in Jaxton and Liam."

Do you have any rider tips?
"Pull up your route on the app. Initially, we were nervous to ride but once we were adjusted we knew we'd never go back. It's become part of our daily routine. There are tables, outlets and WiFi. All of this makes our commute more productive, but more importantly, is a great opportunity for us to spend time together."

Kendra, Jaxton and Liam wanted to give Chuck the train host a shout-out as well! He always says hello in the morning, knows where they sit, and brings them goodies. They look forward to seeing Chuck every morning on their commute.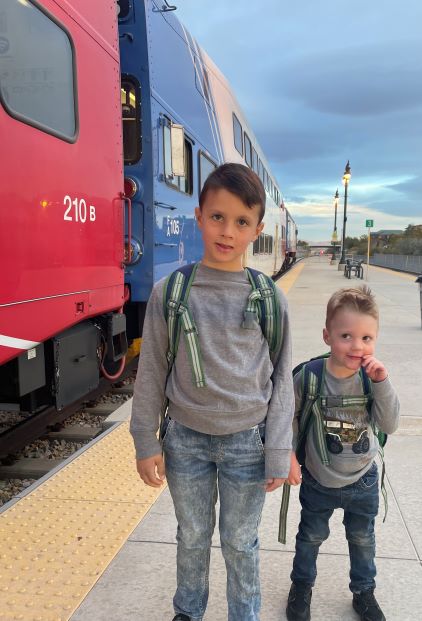 Welcome aboard!
Would you like to commute like Jaxton and Liam? Take advantage of our UTA Reduced Fare FAREPAY Card.

We offer 50% reduced fare on fixed route service (not valid on paratransit services) for qualified youth ages 6-18. (Ages 5 years and younger ride free when accompanied by a fare paying adult).

Learn More
To learn more about how to enjoy using UTA, visit How to Ride. To nominate someone for a future Rider of the Month award, please email us at getsocial@rideuta.com.