Transit, The Outdoors and a Love for Utah
A native of Kearns, and now residing in Daybreak, Kevin is a Utah man through and through. From a young age, growing up with four siblings, he was already an active outdoorsman. Kevin's love for motorcycles and dirt biking began as a youngster which he carried into adulthood. When Kevin isn't working (or riding transit!) you'll find him skiing at Alta or fishing in the Weber River. Being a jack of all trades, Kevin has just gotten into disc golf as well.

Now, he has two children who live in Utah and has the pleasure of being called "grandpa," too!

Kevin works for the Department of Workforce Services, commutes on UTA five days a week, and has convinced his girlfriend to hop on TRAX with him, as well!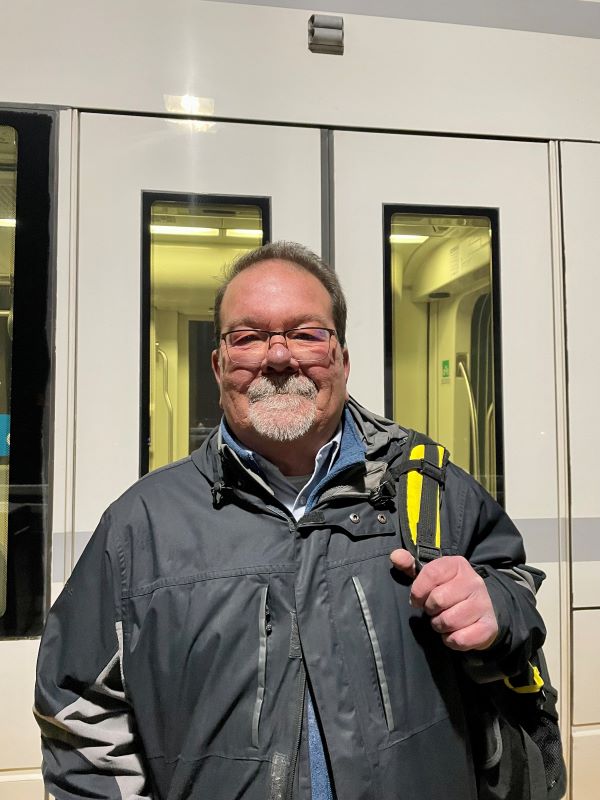 How long have you been riding?

"I have been riding for about five years with a break in 2020 for Covid-19. I ride to work five days a week. I get on TRAX at Daybreak and ride to Redwood to catch the 217 down to 5700th south."

"I started riding because a UTA pass was part of my benefits package at work. I got curious about it and realized that it's a better way to get around. After acclimating to it, it's much easier than driving."

Why do you ride?

"I ride because it saves me a boatload of money over the years and it is nice to not fight the traffic! It's a huge reduction of miles driven which means less wear and tear on my car. Most days I can even get home quicker on transit, depending on traffic and conditions. Sometimes when I'm riding, I look out the window and watch as the cars line up and think about how I'm going to make it home before they do."

Do you have any rider tips?

"Treat your operators like they are kings and queens because they are. I have been extremely impressed with the culture of UTA riders. People here do treat the operators well. For the folks that are regulars, they don't leave that bus without saying "thanks," or, "have a good day," or gesturing something to the operator. It caught my attention right off the bat. I thought that was cool. I have also become friends with a few of the operators through my daily interactions on the bus and TRAX. Relationships can be built. They know my name and I know theirs."

Kevin wanted to shout out Kimberly and Robert, two bus operators that have always treated Kevin like a friend. "Those little day-to-day interactions are meaningful. We are all human. So let us treat each other like it."

Learn More

To learn more about how to enjoy using UTA, visit How to Ride. To nominate someone for a future Rider of the Month award, please email us at getsocial@rideuta.com.