Welcome to another installment of the Utah Transit Authority's Art Crawl — Ogden! This guide will take you from Weber State University to Ogden Dinosaur Park. You'll see elaborate sculptures, eye-catching murals, jaw-dropping architecture, and exciting modern installations.

At UTA, we believe that art has the power to inspire, connect, and enrich our communities. These art crawls are designed to showcase the remarkable artistic landscape of Utah and open your eyes to the possibilities for creating your own adventure on UTA's transit system — we move you to work and to school but also to explore the city and experience beautiful works of art.

Use this guide to explore the city of Ogden and some of the beautiful artwork you can find throughout the city.
Mary Elizabeth Dee Shaw Gallery — Ethel Wattis Kimball Visual Arts Building, 3964 W. Campus Drive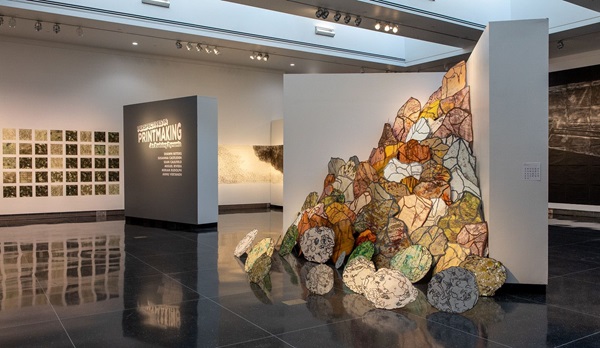 "Perspectives in Printmaking: An Evolving Dynamic" Photo Courtesy of Benjamin Zack/Weber State University

How to get there: Begin your journey on the Weber State University campus — super easy for students! If you don't happen to live on campus, our new BRT system, OGX, will quickly have you on campus in no time, free of charge.

The Mary Elizabeth Dee Shaw Gallery is located inside the Ethel Wattis Kimball Visual Arts Center. The gallery features both local and international artists. It presents contemporary art exhibitions and educational programs that provide visitors access to the art of all times. The gallery is free and open to the public Monday through Friday from 11 a.m. to 5 p.m. and Saturday from 11 a.m. to 3 p.m.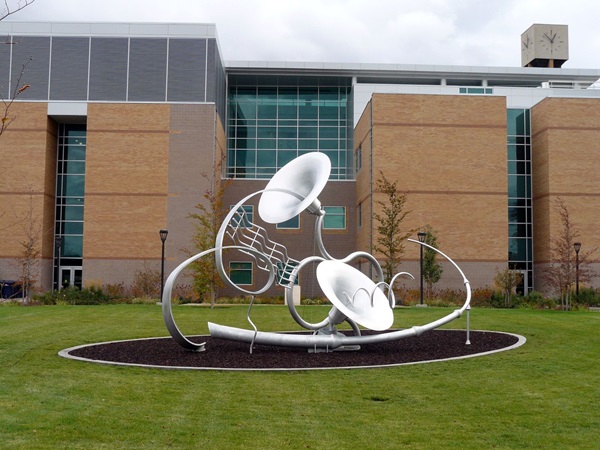 Photo courtesy of samwibatt | Flickr

How to get there: Approximately 500 feet to the right of the Ethel Wattis Kimball Visual Arts Center's front doors, you will find your next stop, the Browning Center. Two stops in one!

The Val A. Browning Center for the Performing Arts is home to Weber State University School of Performing Arts and serves as a cultural hub of northern Utah. It is home to three programs on campus: dance, music and theatre. Each year, the facility hosts over 200 events, bringing in people, no only from the local community but also from across the country. This sculpture is located outside the Elizabeth Hall building and showcases the students' creative minds for the arts.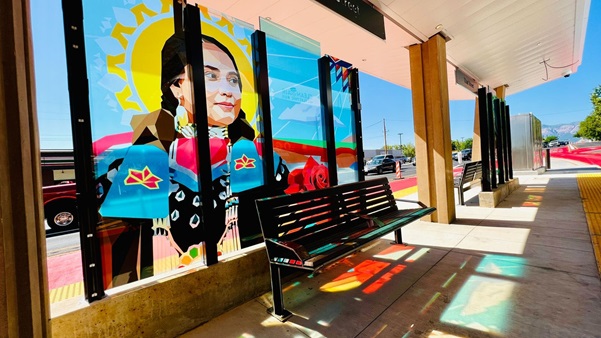 How to get there: Outside of the Preforming Arts Center is our conveniently placed Weber State Central Station OGX station. From there, you will ride OGX two stops to the 32nd Street Station.

This piece, commissioned for this OGX station, showcases a beautiful Shoshone woman dressed in traditional regalia. Across from her is an elk and other culturally relevant elements such as the wild rose, rivers, mountains, sun, pinyon pine cone, and traditional motifs that pay homage to the nation's first people. The color palette runs from warm to cool, representing the four seasons.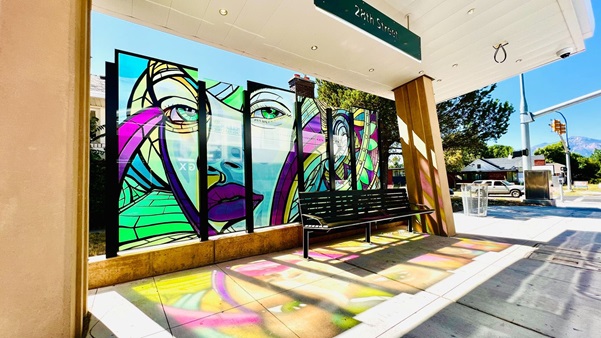 How to get there: After admiring the art on 32nd Street, hop back on OGX and take it to the next station to see this stunning piece along the route.

From the Artist, Don Rimx, "This design is inspired by the people and students who use this means of collective transport. The figures, with glances that cross from one side of the avenue to the other, embody a daily moment that many people share and relate to. The rhythm of the lines and the vibrant color patterns in the designs flowing through the image contrast with the colors of the landscape and the architectural style of the surrounding buildings."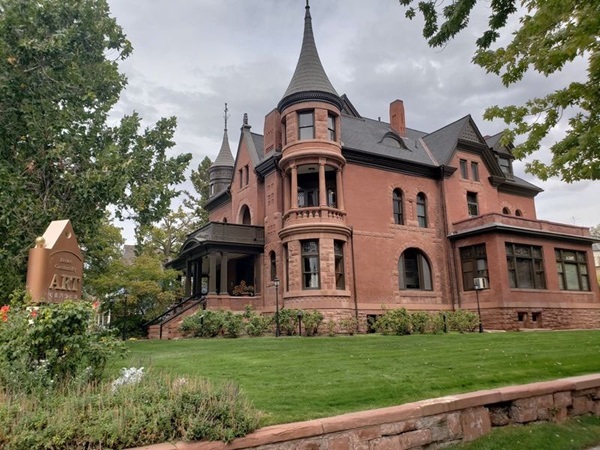 Photo courtesy of Eccles Community Arts Center | Intermountain Histories

How to get there: From 28th Street Station, ride OGX three stops to the Jefferson Avenue Station. Once you get off the bus, walk south along Jefferson Avenue. At the end of the block, you will spot the prestigious David Eccles mansion.

Set within the historic David Eccles mansion, the Eccles Community Art Center hosts rotating displays featuring regional and local artists, updated monthly. The mansion itself houses a lasting assortment of artworks. The Center also presents a range of classes covering visual, diversity, literature, and performing arts.
OCA PLATFORMS Sculpture Park — 490 25th St.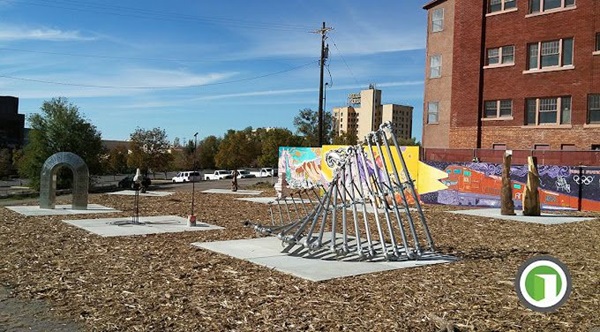 Photo courtesy of O1|PLATFORMS

How to get there: After the Community Art Center, head north back to the Jefferson Avenue Station and make a left along 25th Street. Walk one block, and you will spot the outdoor art exhibit on the right corner of Adams Avenue and 25th Street. OGDEN CONTEMPORARY ARTS inspires local and regional artists through active involvement with the international contemporary art community. Formerly an empty lot, PLATFORMS was taken under the wing of OCA in 2016 to transform into an inclusive and community-centric art haven.
"Monarch in Moda" by Jane Kim — The Monarch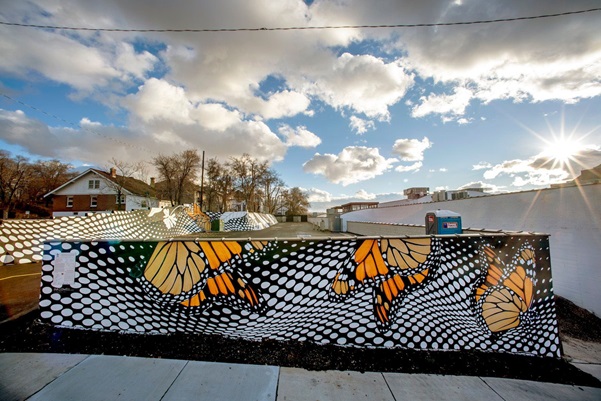 Photo courtesy of The Monarch

How to get there: You might have already spotted our next stop. Facing south outside of the sculpture park, next door to First Baptist Church of Ogden, is The Monarch events center. Walk across the street to get there.

On the outside of the arts events center is this 260-foot mural encapsulating the monarch butterfly. This artwork is a contribution to Jane Kim's Migrating Mural series, which showcases the migration path of the majestic and at-risk monarch butterfly. Sister artworks from this collection are also present in Boston, Orlando, San Francisco, and Springdale, Arkansas.

As for the inside of the art center, every week there is something new to experience! Specialty markets, ladies' nights, and open studio night are created for the community to gather with friends and family, celebrate art, and be entertained while supporting independent artists, makers, and creators of Utah. Check back often to find unique and ever-changing events to add to your calendar so you don't miss out on some of the best art, music, and food.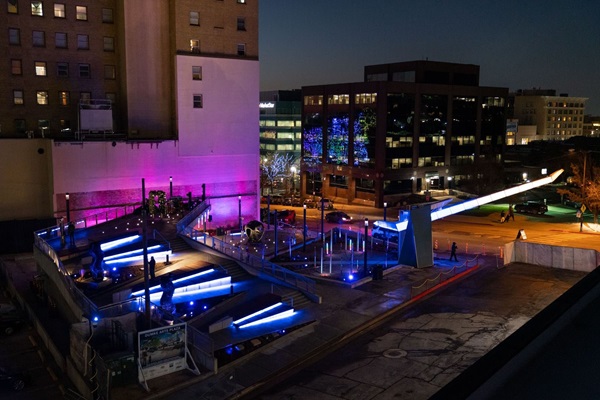 Dumke Arts Plaza | Ogden, UT

How to get there: Continue walking west on 25th Street. At the end of the block, you will already be at our next stop, the Dumke Arts Plaza. Ogden is packed with art to see, and so much of it is within walking distance!

The Mary Elizabeth Dee Shaw Gallery, which we visited earlier, also curates a rotation of outdoor exhibitions at the Dumke Arts Plaza. The Plaza is a space dedicated to the arts, combining a vibrant outdoor gallery, an intimate performance venue, and a community hub. Its purpose is to ignite creativity, amplify a range of viewpoints, and establish Ogden as a central point for modern art. It serves as a location to connect with various art expressions while also being a spot for casual get-togethers — whether it's having lunch with a friend or enjoying a family outing.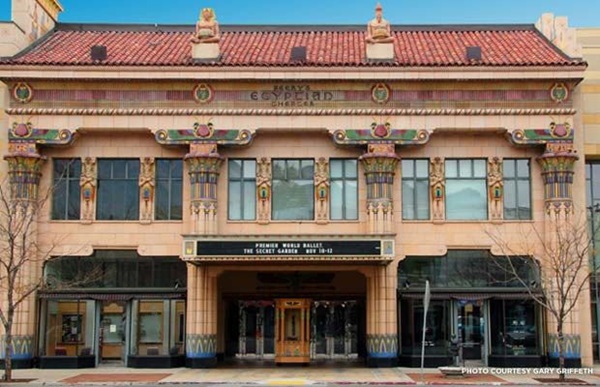 Photo courtesy of National Trust for Historic Preservation

How to get there: Finished with the Plaza? Walk north on Washington Boulevard. Along the west side of the road, you can feast your eyes on one of the most eclectic buildings in all of Ogden — which also happens to be our next stop — Peery's Egyptian Theater.

Opened in 1924, the 1,200 seat theater took over the spot of once burned Arlington Hotel. The auditorium was designed to feel like an Egyptian temple courtyard, complete with a dome ceiling painted to look like the desert sky. Going to the movies there was more than just a regular night out — it became a memorable event. At the theatre's dedication, it was noted that "an almost perfect replica of an Egyptian temple by the Nile built centuries ago has been placed in a modern city, as if by magic. It is a perfect reproduction of the art of a dead past".
"You Belong" by Cole Eisenhour — 2488 Kiesel Ave.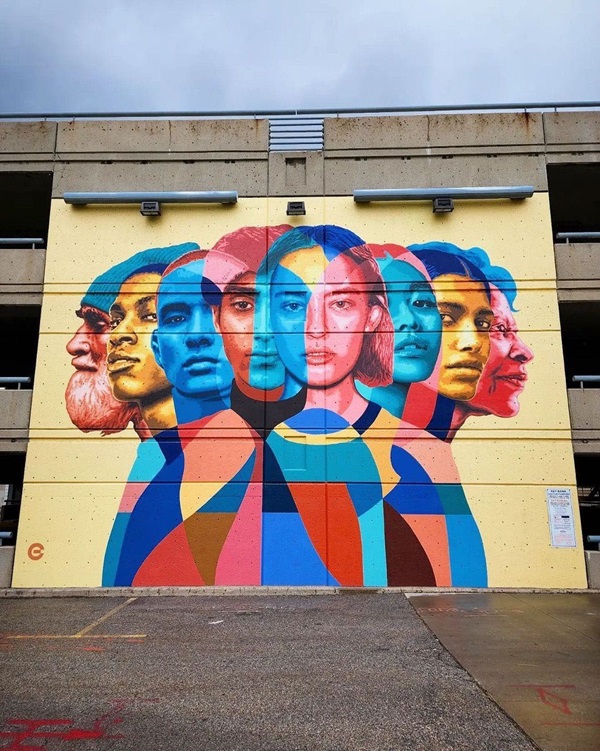 How to get there: Outside of the theater there is a stop for the 601, Ogden's free historic trolley! Hop on there and ride it to the next stop on the ever-so-familiar 25th Street. Make a right on to Kiesel Avenue to see the "You Belong" mural on your right. We love art that gives a beautiful message!

Cole Eisenhour, a local artist who you may recognize for some of his OGX station art, explains his choices for his art. "I just really wanted to make things pop, and have some interplay with overlapping elements where the heads kind of mesh together," he said. "So the viewer has to do a little searching and deciphering, make it a little bit fun. Sort of like our communities, you know. We need to work together and embrace different viewpoints and other people's backgrounds and what they have to say."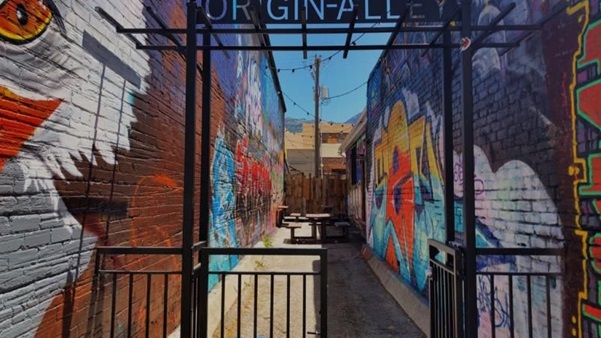 Photo courtesy of Visit Ogden

How to get there: Its trolley time! Jump back on to the 601 and ride it one more stop to Grant Avenue and 25th Street. Headed north from the stop — you can't miss this enchanting alley on your right.

Origin Alley is nestled between Wasatch Roasting Company and Xalisco. This place is not only a fun way to change up your lunch location, but Origin Alley's murals are known to frequently change and keep art enthusiasts coming back to see the new art installations.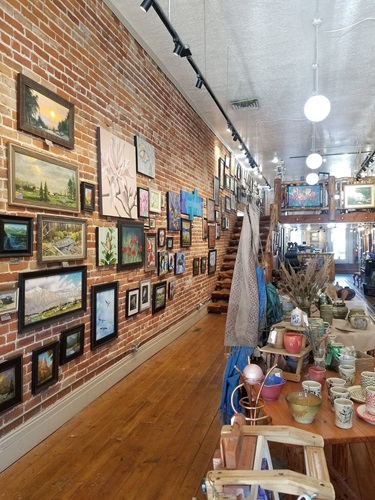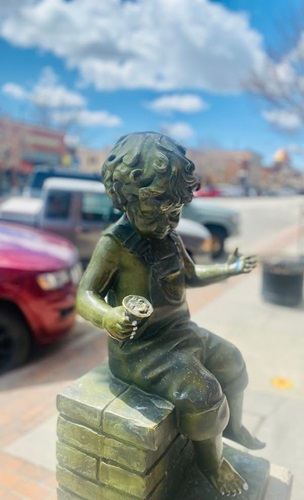 Photo Courtesy of Facebook | Gallery25 Ogden, Utah Photo Courtesy of Jake Cahoon

How to get there: After admiring the alley, head south to then turn right on to 25th Street. Along the right side of the street, you will find not only some fun statues but Gallery 25 as well.

Nestled on Ogden's historic 25th Street, this is the area's oldest gallery. If local art is what you desire, Gallery 25 is your gateway to bringing community artworks into your living space, and they are pros with more than two decades of operation. Gallery 25 will be sure to indulge your senses with their captivating array of art.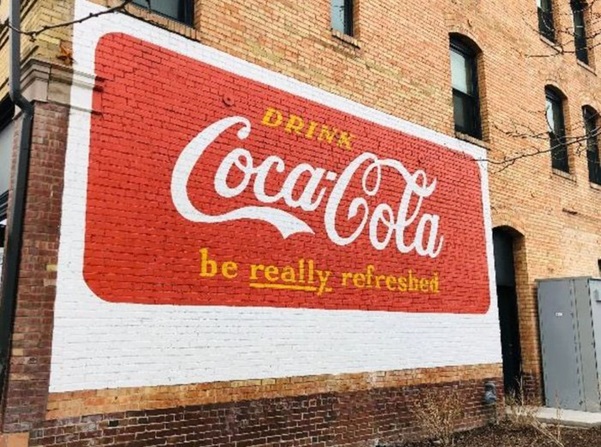 Photo Courtesy of OnlyInYourState

How to get there: Continue west down historic 25th Street. Make a right once you hit the Color Me Mine on Lincoln Avenue. After passing those set of buildings, keep an eye out for the Coca-Cola mural on your left.

Not much is known about this history of this mural, but its vintage appeal makes for good marketing, a hankering for an ice cold Coke, and a pleasing Instagram photo op.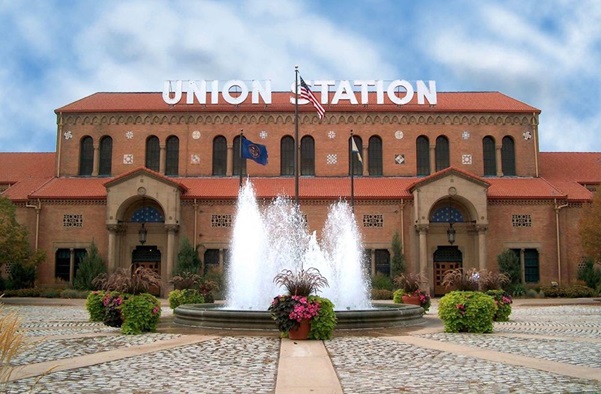 Photo Courtesy of Ogden, Utah, buys Union Station land - Trains

How to get there: When you've finished getting your shots of the Coca-Cola mural, head back down 25th Street. Walking to the end of the road as you go west, you'll see the magnificent Union Station. You can't miss the water towers out front!

Ogden's Union Station stands as a tribute to the city's rich railroad history, embodying the cultural and economic transformations brought to the western frontier with the completion of the transcontinental railroad. While it no longer functions as a train station, the Union Station draws visitors in to the renowned John M. Browning Firearms Museum and the Utah State Railroad Museum/Eccles Rail Center, which showcases two of the largest locomotives ever manufactured.

Just north of Union Station is Ogden Central Station. From here, you can find transit back home, whether it be OGX or FrontRunner.

If you are looking to make your art crawl even more spectacular, continue on to these two locations, but be warned, fun transit rides lie ahead! ;)
Extra Attractions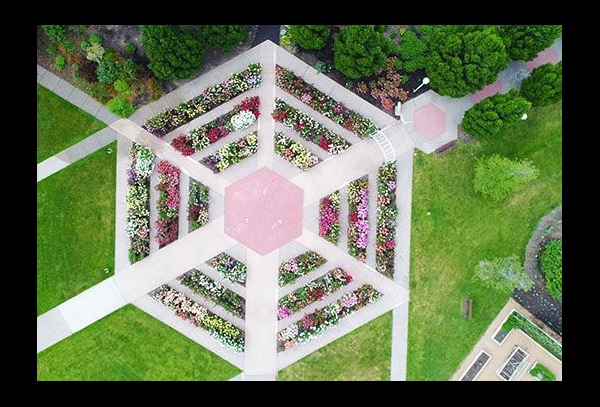 Photo Courtesy of Ogden Botanical Gardens USU

How to get there: From Ogden Central Station, you have a few options. If you're not in the mood for a walk, ride OGX four stops to Monroe Boulevard Station, then transfer to the 645 bus and continue six stops, which will place you right in front of the gardens at 1710 S. Monroe Blvd. If you do decide to take this option, timing is everything because the 645 runs once an hour — check the Transit App for the next bus time. Another option is to take the 613 bus four stops to Washington Blvd / River Drive. Enjoy a nice mile walk along the Ogden river on Park Boulevard. After crossing Monroe Boulevard, you will arrive at the Ogden Botanical Gardens.

At the Ogden Botanical Gardens, you'll encounter a vibrant display of blossoms and attractions, showcasing an array of water-efficient species, an arboretum, and serene memorial gardens. The location is perfect for professional photos or an event space but also brings the perfect serenity for an outdoor lunch or afternoon walk.
Ogden's George S. Eccles Dinosaur Park — 1544 Park Blvd.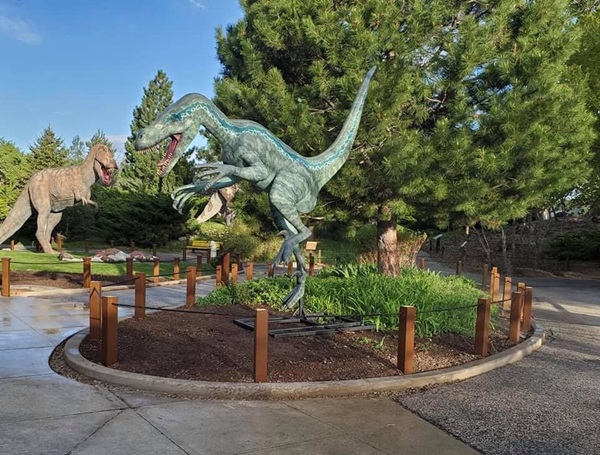 Photo Courtesy of Facebook | Ogden's George S. Eccles Dinosaur Park

How to get there: If you would like to continue your stroll down the Ogden River Parkway, continue heading east. After another mile, you might think you've gone back in time, but it is just the final stop along our art crawl.

Ogden's George S. Eccles Dinosaur Park serves as a community hub adorned with museums, gardens, and artistic installations, inviting curious exploration that transforms into a journey across time. Come along to discover the 8.5-acre sculpture park, featuring more than 100 life-sized dinosaurs, and engage in hands-on educational encounters.

A heartfelt thank you to all who embraced the artistic journey through Ogden City. Your keen interest and participation have amplified the essence of our community's creative spirit. You have not only enriched your own experiences but also contributed to the celebration of art in our community. Thank you for joining us on this art-filled expedition, and may your artistic adventures continue to inspire and uplift you.