We love our riders, and we really love to see those that embrace a pro-transit, less car-dependent lifestyle. Today's example of that is our October Rider of the Month, Chandler from American Fork.

Chandler was nominated by UTA's Community Engagement Specialist, Sam Aramburu. She says Chandler is one of UTA's biggest fans and uses UTA a lot to commute and adventure with his family.

Chandler started riding as a Utah Valley University student using the transit pass included in his student ID. After graduation, he landed a job with one of UTA's Eco Pass Partners, Qualtrics, and now has unlimited transit through his employer.

About three years ago, Chandler and his wife sold one of their cars and became a one-car household. Now, he and his wife and two kids get around mainly on UTA and by bike.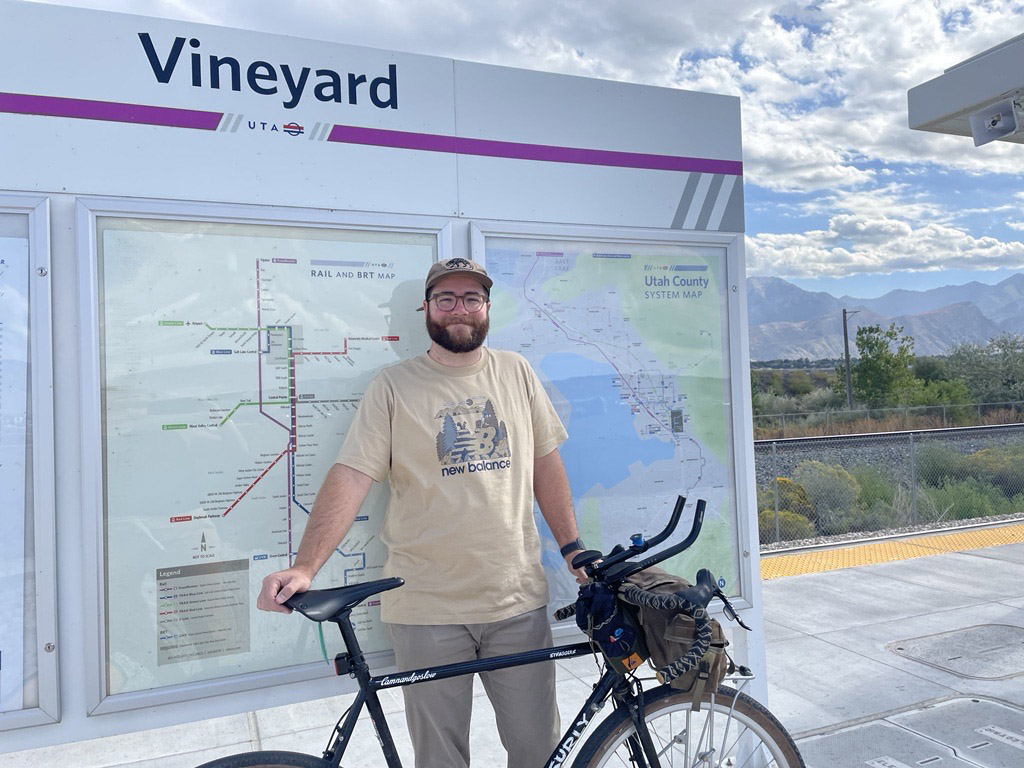 How long have you been riding?
"I started riding when I moved here to attend UVU. I would use my student pass and take UVX. I've always been into biking, and that works great with transit."
Why do you ride?
"I enjoy the winding down at the end of the day and the slow winding up at the start of the day as I travel." Chandler also appreciates the structure created by a transit routine: "It helps set a good boundary with work, every day leaving at the same time to catch the train. It feels good to connect with other people and it's nice to also have time focus on yourself. Especially as a parent." He also enjoys introducing transit to his kids. "Their delight in the buses and trains is contagious."
Why should people ride UTA?
"The number one reason, I'd say, is the connections you make. You see so many different types of people. It's easy to spark up a conversation with strangers, especially the ones with bikes." Chandler notes taking transit provides genuinely different experience than driving saying, "Taking transit provides a sense of adventure. We enjoy the journey together. We'll head to Salt Lake City for a concert and be able talk face to face and have the time and space to connect as a family."
When you're not commuting for work, where do you go?
"We'll take FrontRunner to Sandy and go to a big playground and splashpads or Vineyard splashpad. Sometimes we enjoy the BYU museum, or head to Salt Lake's City Center. We'll map out various points of interest and make UTA a part of the trip."
If you could have one route, what would it be?
"I think a long train route would be incredible. Connecting Salt Lake with St. George and possibly the national park like Zion, Moab, Bryce Canyon, etc., via FrontRunner would be ideal!"
Learn More
To learn more about how to enjoy using UTA, visit How to Ride. To nominate someone for a future Rider of the Month award, please email us at getsocial@rideuta.com.