Four years ago, this month, we began UTA On Demand.

This experimental service began as a pilot project to see if expectations met reality. They did! And now, four years later, we have made UTA On Demand a regular service in four distinct areas across the Wasatch Front.

On-demand, aka microtransit, is a nimble and flexible mobility solution that allows riders to request curb-to-curb rides to run errands or easily connect to other UTA services. It's an incredible entry point into using transit for the first time or a catalyst to becoming a more frequent rider.
Transit Nerd Moment (for those that want to go deeper)
Microtransit is a transit solution to areas that are a little more challenging to service adequately by fixed bus (regular city bus routes). This might be due to a lack of population density or lack of notable destinations. If those circumstances exist but there is still demand — microtransit is the answer. Microtransit, not having a fixed schedule or or fixed route, allows service to meet the demand in these unique areas — areas that are common along the Wasatch Front.
Using the right service in the right area shows in the numbers. Ridership in all our on-demand zones has grown significantly since the launch of service. Since January 2022, ridership for this service overall has quadrupled!

In celebration of our "four years, four services" moment, we're giving a quick intro to each one.
Tooele County: Our All-Electric Fleet
Launched in: 2022
Ridership Growth Year-to-Date: 94%
Notable Destinations: Tooele, Stanbury Park, Erda, and Grantsville, Tooele Senior Citizens Center, and Mountain West Medical Center
Hours: Weekdays 7 a.m. to 7 p.m.
Quick Fact: This zone has a unique fleet that consists of 10 fully electric, 6-passenger, all ADA accessible vans.

Cissy Morton shares about the evolution and impact of UTA On Demand in Tooele County.


South Davis County: From FrontRunner to Fun
Launched in: 2022
Ridership Growth Year-to-Date: 117%
Notable Destinations: FrontRunner Woods Cross Station, Lake View Hospital, South Davis Recreational Center
Hours: Weekdays 6 a.m. to 9 p.m.
Quick Fact: Lee's Marketplace is one of the top destinations in this zone. It's one the oldest independent grocery stores in the area.

Join us as we travel with Bountiful Mayor Kendalyn Harris to popular destinations in the on-demand zone.


Salt Lake City Westside: Students and Seniors Gain Freedom
Launched in: 2021
Ridership Growth Year-to-Date: 25%
Notable Destinations: Salt Lake Central and North Temple Stations, numerous bus routes, and West High School
Hours of Service: Weekdays and Saturdays from 4 a.m. to 12:15 a.m. and Sundays from 6 a.m. to 9 p.m.
Quick Fact: In this zone, UTA On Demand app shows all available transit in the area, so if a faster option is available, you can choose the best mode for you.

Check out this quick tutorial on how to use UTA On Demand and what to expect from the service.


South Salt Lake County: Commuter Connector
Launched in: 2019
Ridership Growth Year-to-Date: 19%
Notable Destinations: Two FrontRunner Stations, Two TRAX Lines, JL Sorenson Recreation Center
Hours of Service: Weekdays from 4 a.m. to 12:15 a.m. and Saturdays from 6 a.m. to 1:15 a.m.
Quick Fact: This is one of the largest microtransit zones in the country!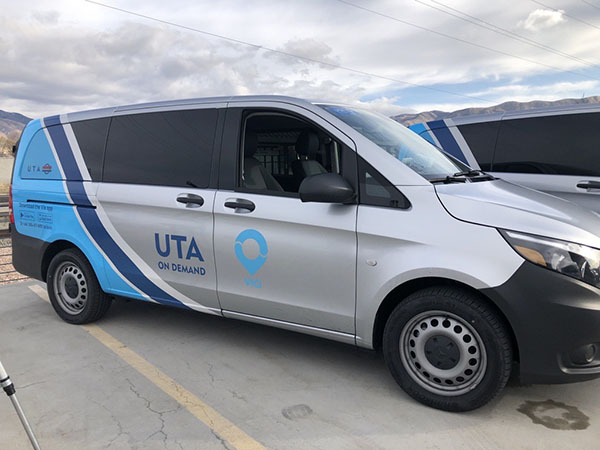 Get Started with UTA On Demand
Each month, 700 people try UTA On Demand for the first time. Are you ready to join them? If so, just download the app, set up your account, and book your ride! Download at the App Store or on Google Play. The Transit app, UTA's official trip planning, tracking, and paying app, also shows UTA On Demand when you are in a zone.
What's Ahead for UTA On Demand?
We have identified five more zones in our Five Year Service Plan. So stay tuned!

Learn more about UTA On Demand at rideuta.com/ondemand.